Classical cinema in Venice
In parallel with the sections showing films that are new, world premieres that are highly sought-after, the Venice Film Festival is also running the Venice Classics programme in smaller venues, open to both accredited and ticket-paying audiences.
Created in 2012, this section that hosts screenings with a much rather intimate atmosphere, akin to a cinematheque, shielded from the bustle and glamour that dominates the rest of the festival, presents both restored historical hilms as well as fresh documentaries about cinema (on directors, actors, or the films of yesteryear).
The section is curated by Alberto Barbera, the festival's artistic director, together with Federico Gironi, a film journalist, writer, and curator. The restored versions are presented for the first time on the Lido, and have been restored by film archives, cultural institutions and production companies from all over the world. Also premiering are the documentaries on the world of film (which have long fascinated La Biennale). There is even a jury for the section, made up of 24 students (coordinated this year by screenwriter and director Andrea Pallaoro), recommended by film studies professors from Italian universities, who award two prizes, one for each of the two directions.
Of course, these films get less media attention – the journalists and critics at the festival are naturally busy with the new films, (mainly those in competition), press conferences and the preparation of press materials. In addition, the rest of the badge holders are mostly looking for the same titles. That's why many of the Venice Classics screenings are attended by only a few dozen people. Admittedly, the famous names attract slightly more people.
The concept behind the selection of heritage films is relatively simple and was explained by Barbera and Gironi themselves when they announced the 20 titles of this 80th edition of the festival (30 August – 9 September): "Once again this year, the line-up of Venice Classics seeks to offer its audiences a wide and overarching cross-section of the history of cinema, spanning genres and currents, exploring cinema styles and celebrating great filmmakers and anniversaries". The programme is a mix of famous films and of titles that are lesser, or fully unknown. The pleasure of rewatching and the joy of discovery – I experimented a bit of both through the couple of Venice Classics screenings that I managed to sneak in between the temptations and obligations of the Competition, Orizzonti or Out of Competition sections in my five days at the festival.
One of my revelations was Life of a Shock Force Worker (1972), directed by a Bosnian director, Bahrudin Bato Čengić, whom I must admit that I knew nothing of before seeing the film, and Harmonica (1974), a film from the early career of veteran filmmaker Amir Naderi, one of the most important Iranian filmmakers. The first one is a deconstruction that is partly burlesque, yet full of fantasy, of the Stakhanovism (within the mining industry) present in the early days of the communist regime in post-war Yugoslavia. The second one tells a playful story set in pre-Revolution Iran, regarding a group of boys that are fascinated by the harmonica that one of them has been gifted with, using it as an instrument to subjugate and humiliate his buddies.
I must admit that I entered the screening of Shadows of Forgotten Ancestors (1964), the famous film by Serghei Paradjanov, which I already knew quite well, just to see how it has been restored, but also to check if it will bring the same pleasure that it did on my first couple of viewings, more than 15 years ago. The restoration was a disappointment – to be fair, because it was presented as a work in progress and I can't assess how bad the state of the working copy was. Even if I did watch the film with a lot more detachment than in the past, I still was impressed the Georgian filmmaker's ingenious manner of creating images that melded surrealism with an almost anthropological gaze towards traditions (whereas its symbolism struck me as rather strident).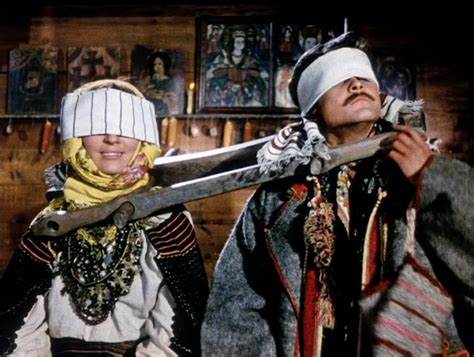 At one point during the life of a cinephile, it may so happen that, at one point, you don't really remember if you saw some film or another many years ago, directed by some canonical auteur or another. Maybe it sounds somewhat familiar, but it's not at all clear if this is because you read about it sometime or that you saw some frames or fragments of it in various other contexts. It's almost like in a film by Alain Resnais – memory is a capricious beast. This is what happened to me with two of the films in Venice Classics that I went to see thinking that if I can't remember them, then it's as if I've never seen them at all.
One is Agnès Varda's Les Créatures (which was part of the Festival's Competition in 1966) and the other is Joseph Losey's King and Country (1964). The British film was focused on a soldier  (Tom Courtenay) from the First World War, who is court martialed for an apparent attempt to desert, and a captain (Dirk Bogarde), who offers to be his lawyer in the trial between the trenches. The films formal rigour makes its plea in favour of peace and its denouncement of war and of the cynicism of its leaders ring ever stronger. Les Créatures, which is dedicated to Jacques Demy and features lead performances by Michel Piccoli and Catherine Deneuve, seems to me like one of the minor entries in the otherwise impressive filmography of Agnès Varda (who declares herself unsatisfied with the final result). The ostentatious gratuitousness of the film has a certain charm, however, its creative energy is far from being in its best shape. 
Amongst other archival titles featured in Venice Classics, the ones I most regret not (re)watching are The Exorcist (1973), by William Friedkin (tickets and reservations were sold out instantly), Days of Heaven (1978), by Terrence Malick, One from the Heart (1982), by Francis Ford Coppola, La caza (1966), by Carlos Saura, or a 27-minute-long short film, Portrait of Gina, made by Orson Welles in 1958 about Gina Lollobrigida. I had to sacrifice the director's cut of Andrei Rublev (1966) by Andrei Tarkovsky in the name of other films, despite the fact that the version that was being screened was a restoration of the unabridged original, which was censored before its official release and has never been seen until now.
As for There Was a Father (1942), a film by Yasujirō Ozu that I didn't know, I gave it up at the last minute in order to write a review of a feature film from the Competition. In the festival's description of the film in the catalog, There Was a Father is presented as a little-known film from the Japanese director's career, a film mutilated by the censors of the time: "the recent rediscovery of part of the clips that were cut will make it possible to rediscover Chichi Ariki (There Was a Father) in a version that is not complete but is undoubtedly closer to the original release than the version we have known to date."
Of the nine documentaries about cinema, I ticked off only one: an American production, Ken Jacobs – From Orchard Street to the Museum of Modern Art (2023), where director Fred Riedel paints a portrait – from interviews and film fragments – of the important American experimental cinema auteur. This section also features docs about Alfred Hitchcock, Bill Douglas, Andy Kaufman, Nicolás Guillén Landriá, Giuseppe De Santis, Michel Gondry, Dario Argento and Frank Capra.
Journalist and film critic. Curator for some film festivals in Romania. At "Films in Frame" publishes interviews with both young and established filmmakers.