Romanian films coming out in cinemas in November
November comes with a diverse offer of Romanian premieres, from documentaries to comedies or adventure films, and it would be a pity to miss them out. Below you can find our recommendations.
In the 1970s Bucharest, Zahra and Maria strike up a close friendship while studying at the University of Medicine. As political turmoil brews in Iran, Zahra is forced to return home, while Maria remains in communist Romania. For a decade, the two keep in touch through letters, which reveal the political situation in each country, their condition as women, and their strong connection.
"It's tempting to say that Petri – the man behind Where are you, Bucharest?, a quintessential chronicler of Romania's protest movements of 2010-2020, always keeping an eye on the pulse of the streets and searching out any and all public demonstrations – seem to have headed in an entirely different direction here than the one that established him. But his distinctive gaze is as present as can be in Between Revolutions: much of the archival footage used here, whether it's from Romania or Iran, takes place in the streets," says Flavia Dima in her review for Films in Frame.
Between Revolutions is now playing in theaters across the country.
21 Rubies (dir. Ciprian Mega)
Nina, a young prosecutor, works with her boyfriend Yuri, a film director, on a screenplay inspired by a family story. At the same time, she is being considered for the position of Prosecutor General of Romania, but her appointment depends on the Secretary of State of the American Government and the representative of the European Commission, two people set to test her limits and knowledge.
The film stars Corina Moise and Anthony Delon, alongside Dana Rogoz, Răzvan Vasilescu, Carmen Tănase, Mickey Rourke, and Elisabetta Pellini.
21 Rubies is now playing in cinemas.
MMXX (dir. Cristi Puiu) – November 10
The film presents four short moments in the lives of four contemporary characters: Oana Pfifer, a young therapist visibly distracted by some unknown reasons; Mihai, Oana's younger brother, busy with preparations for his birthday party; Septimiu Pfifer, Oana's husband, who is concerned about his health regarding a possible Covid-19 contamination while vaguely listening to a friend's story about a strange incident he was caught in a long time ago; Narcis Pătrănescu, an organized crime inspector, who uncovers an unsettling case of human trafficking.
"As much as this final episode espouses all of its director's extraordinary qualities as a metteur-en-scene […], not as much because of the infernal images that are conjured by the woman's confession (bestial killings, apalling abuses), but through the ultimate layer of suggestion – meaning, the pandemic was nothing but an enormous manipulation that took the world's attention away from organized criminality and its atrocities." (read Flavia Dima's review in Films in Frame)
Cristi Puiu's newest film can be seen in cinemas from November 10.
Nora (dir. Carla Maria Teaha) – November 17 
At 92 years old, Nora Iuga continues to captivate the public with her disarming ingenuity and witty charm. The director introduces us to the poet's universe, where everything pulsates with life, and at the same time, gives us the opportunity to better understand the writer whose books were banned by communists for "morbid eroticism".
"Nora is a person who teaches you to love life. Although she is a fascinating writer, you don't need to be familiar with her work to understand that you are dealing with a unique character. She has this inner light that you feel drawn to even if you don't know who she is. And I think that only by knowing a person like her, at her age, do you start to ask yourself, 'How should I live my life now to be as young as she is at 90?' After you meet Nora, you realize that we are simply blind sometimes, slow to understand that life itself is a privilege.
Nora is the kind of person you should meet at least once in your life. And that, as soon as possible. She is also a winner. At the age of 38, the communist regime banned her from publishing, her books were withdrawn from sale, and she was accused of 'morbid eroticism', yet she continued to write poetry because she knew no other way to live. Without knowing whether she would ever be published again in her life. I believe that makes her a great artist, a great writer, and an example worth following.
So, there are several reasons why I wanted to tell Nora's story in a film that I see as a journey into the future. A future of yours, of mine, of a person who would like to live their youth without old age to the fullest, with immense joy, even at a very old age."
The film enters cinemas on November 17.
Warboy (dir. Marian Crișan) – November 17 
Set at the end of WW2, the film follows Nicu, a teenager who, like a fairy-tale hero, embarks on an initiatory journey trying to save the family's two horses.
"Warboy is a different kind of Romanian film, a mix of genres – adventure, war, Western – based on a coming-of-age story. It's a Romanian film made with love for American cinema. As on my previous films, I looked for and found amateurs who could act, Daniel Bâliș and Reginald Ammons, two actors with no experience or training who managed to create two memorable roles," says director Marian Crișan.
Warboy hits theaters on November 17.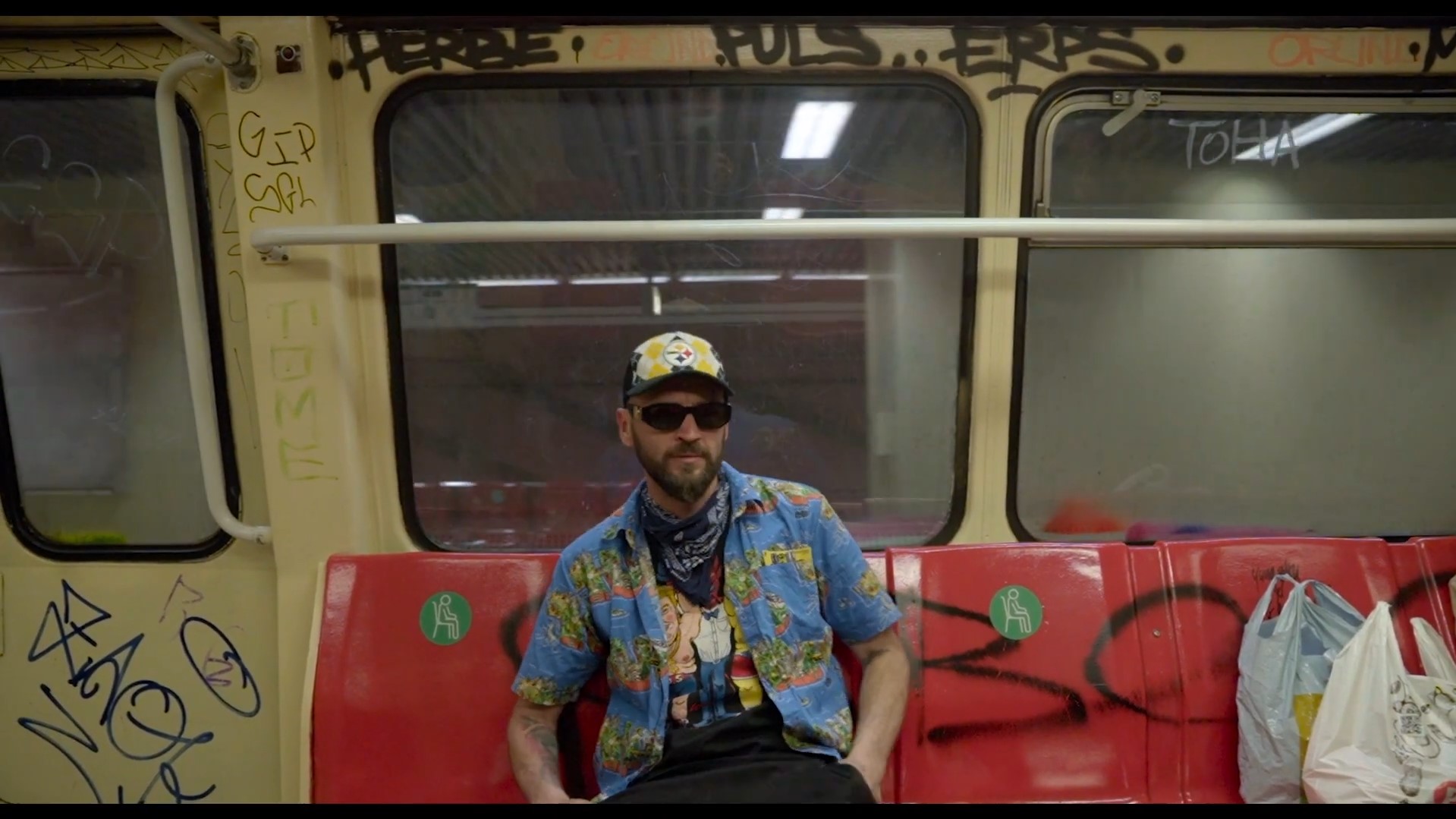 The documentary focuses on the phenomenon of graffiti and street art in Romania, exploring all the dimensions and specificities of this community – from interventions on subways, trams, and trains, to clandestine actions on the streets, in public spaces, or in abandoned places. Why Do They Write on Walls? illustrates the complexity of an urban culture that has developed over the past 30 years.
"Making this film I learned that things don't always go as planned, and that's okay," says Alin Boeru. "What's important is to be open to whatever comes your way and adapt to the conditions on the ground. In my opinion, especially when it comes to documentaries, the information and the connection with the person in front of you is more important than carefully positioned lighting, in a clean or visually correct space.
It's only when you're no longer afraid to be vulnerable that you find the truth. Often, graffiti and street artists cultivate a public persona that allows them not to expose themselves more than necessary. They become one with the 4, 5, or 6 letters of their pseudonym and control every information that gets out there – everything is, in a way, curated and filtered. It wasn't until I shared things about myself with them that I was able to access a deeper level of conversation. I didn't do it as a trick to get them talking. I simply felt the need to let my guard down and present myself to the world with all my vulnerabilities, flaws, and quirks."
The film comes out in cinemas on November 24.
Refuge (dir. Liviu Mărghidan) – November 24
Although divorced, Ana and Luca's parents get together every year for a mountain trip, seeking to maintain a close relationship between them and the separated children – Ana lives with her mother in France, and Luca in Romania with his father. When the two kids embark on a clandestine expedition to an isolated refuge, their parents set out on a search that will test their limits.
Both the actors and the film crew were put to the test as most of the shooting took place in challenging conditions on the top of the mountain. "First of all, there were the physical challenges – we would walk for 3 hours between locations, and only then would we would start shooting. Although we had the support of the Zărnești Mountain Rescue, which helped us with transporting the technical equipment, the team had to carry their camping gear, food, and water. From an artistic standpoint, almost everything we rehearsed down at the cabin had to be adapted to the conditions up there: the weather, open sections for the actors, and risky shots for the crew. So, it's not wrong to say that a significant portion of the film is improvisation, done in very challenging conditions," says director Liviu Mărghidan.
Refuge opens in cinemas on November 24.
Miami Bici 2 (dir. Jesús del Cerro) – November 24
Following its success in 2020, Miami Bici returns to the big screen for its sequel. Ion Bilă and Ilie Piciu now travel from Miami to Los Angeles in search of business that will bring them a lot of money for little work. In this quest, they befriend the "bad guys", but quickly realize they are in over their heads.
"I relate to his story because I was the Romanian who went to America – not necessarily the character in the film, but the cultural shock is the same. After these four years of learning so much about film production, I feel like I owe it to myself to tell this story (again), which I find super fun," says Matei Dima in his interview for Films in Frame, which can be read in the 2023 print issue of the magazine.
Miami Bici 2 hits theaters on November 24.
Writer, photographer and videographer. For Films in Frame she writes news about the latest happenings in the film world and brings to the readers' attention the productions that can be seen at the cinema. When she's not writing articles, she's photographing people in a small studio or searching for new cake recipes.