Animest – About the 14th edition
The 14th edition of Animest is happening right now and this whole week will be full of great films, events and workshops.
As every other year, Animest presents in the international and national competitions films that deserve the public's attention. Of the films selected in the national competition we mention:
Opinci / Sandals (dir. Anton Groves, Damian Groves) – A film based on a true story about a record breaking globetrotter and single father, Dan Dumitru, who attempts to explain to his young daughter about death, courage and the absence of her mother from their lives;
Tartaruga (dir. Raluca Burcă) – Awakening in the middle of the ocean makes our hero enjoy a spark of awareness. He feels sorry about his indecision and from that moment he tries to change his destiny;
The story of Saint Nicholas (dir. Andrei Chifan) – One freezing winter night, the father asks his elder daughter to go feed the ailing old lady who lives in the nearby valley. The girl eagerly faces the furious winds, but someone in the dark sets his eyes upon her;
My Heroes Used to Share Apples (dir. Maria Scutaru) – A World War II photo of my grandparents becomes a journey that explores stories and facts that are not the prime information, rebuilding boundaries between simple events and people from an area at a certain point in history. This might be anyone's story.
In addition to the international and national films presented in premiere, Animest comes with special screenings and events, such as Yesterday Will Be Tomorrow – the place where technology blends in with stories, and audiences will get to enjoy classic SFs, as well as the latest short films, presented in several sets throughout the festival, and also the films in the Animest VR Experience section, presented at Kube Musette. Moreover, the director of Yesterday Will Be Tomorrow, Stiv Spasojevic is one of the special guests of this year's edition.
As always, children have their own section, Minimest, which includes a lot of films, stop-motion animation workshops, a comic-book workshop and other creative workshops where they will play starting from the films they have seen. Details about the Minimest program can be found here.
As for grown-ups, they can go to Creepy Animation Night, at Gastropub, on October 11th, at 11pm, for a night full of bizzare things and monsters, or to Erotica – The Night Of Erotic Animation, where they'll find a selection of films that explore sexuality and the intricacy of relationships.
Another special screening within Animest is Animusic Night (October 10th, 9pm, Control Club).
Those curious to learn about the process behind an animated film are invited to attend the following masterclasses: From Comics to Animation held by Robert Valley, creator of the Gorillaz's music videos, Massive Swerve graphic novels and character designer for Disney production Tron: Uprising, for which he received the Annie award, and Falling in Love with the Frame held by Paul Bush, director, animator and professor.
Also a must-see at Animest is the Cine-Concert Fantastic Planet, where the animated film Fantastic Planet (dir. René Laloux) will be accompanied by live music composed and interpreted by Bucharest Jazz Orchestra. The event will take place on October 12th at 8:30pm at the Eforie Cinema.
On Wednesday, October 9th, a new edition of the guest festival, Ars Electronica, will take place. Ars Electronica aims to combine art, technology and society. More than a festival, Ars Electronica is a cultural and research space based in Linz, Austria.
This year's guest country is Estonia, and the guest studio is Papy3D.
__
Animest takes place between October 4th and 13th in Bucharest, in several places such as Elvire Popesco Cinema, Eforie Cinema, Cinema City – AFI Cotroceni, The Comic Opera For Children, AWE. Adaptive Work Environment, Recent Art Museum, Cervantes Institute, Control Club, Kube Musette, Gastropub Factory.
Tickets can be purchased on Eventbook. For more details and the full program, visit the Animest website.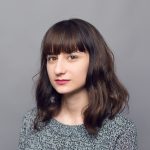 Melissa Antonescu