American Independent Film Festival – About the 3rd edition
AIFF returns fresh in Bucharest between April 12th-18th with special guest, director Roberto Minervini. He will hold a masterclass on April 16th and will present American Perspectives by Roberto Minervini, an insight into the recent history of the independent American cinema. Among the films presented are included films directed by Roger Corman, Barbara Loden, Bill & Turner Ross. Screenings will be introduced by Roberto Minervini and the event will take place at Peasant Museum Cinema.
In the festival, two of Minervini's films will be screened, both of which are followed by Q & A sessions with the director:
The Other Side: On an invisible territory at the edge of society, at the border between anarchy and illegality, there is a community that is trying to respond to a threat: to be forgotten by political institutions and to have their civil rights violated. Through this hidden pocket of humanity, the door to the abyss of the today America opens.
What You Gonna Do When the World's on Fire? (documentary): In the summer of 2017, a series of violent crimes by the police against young African-American have created panic among the population. A black community in South America is trying to survive with the lasting effects of the past and find its place in a country that is not on their side. Meanwhile, the Black Panthers are preparing a protest against the brutality of the police.
Among the filmmakers invited are Jacques Audiard, whose film, The Sisters Brothers, will be followed by Q & A sessions, and Kent Jones, director of Diane, will have a Q & A via Skype after his film screening on April 14th.
On April 17th, at Wanda's screening, the audience can participate at the Q & A session with members of Film Menu magazine.
At AIFF 2019 you can also watch:
McQueen (directed by Ian Bonhôte, Peter Ettedgui): Ian Bonhôte's and Peter Ettedgui's documentary tells Alexander McQueen's story through exclusive interviews with close friends and family, recovered archive footage, great picture and soundtrack. McQueen is an authentic celebration and an exciting portrait of the tortured, but inspired artist.
Vox Lux (directed by Brady Corbet): The film follows Celeste's rise – from the ashes of a national tragedy to superstar status. The action spans over 18 years and shows important cultural moments seen through her eyes, beginning in 1999 and ending in 2017.
The Old Man and The Gun (directed by David Lowery): Forrest Tucker (R. Redford), at 70 years of age succeeds in a spectacular escape from San Quentin Prison, committing robberies that dazzle the authorities and delight the audience. When he is not alone, Forrest works with his band of villains consisting of Teddy (D. Glover) and Waller (T. Waits). In the pursuit of Tucker are engaged Detective John Hunt (C. Affleck), who becomes fascinated by Tucker's devotion and personal mark on the robberies, and Jewel (Sissy Spacek), who loves him despite all that he has committed.
This year, for the first time, AIFF is also going to Iași, in a pilot edition with a two-day program. Between 11th and 12th April at Athenaeum Cinema the public can watch the films The Favourite (Yorgos Lanthimos), Vox Lux (Brady Corbet), Good Time (Benny and Josh Safdie), Paterson (Jim Jarmusch) Under the Silver Lake (David Mitchell) and The Sisters Brothers (Jacques Audiard). The films will be introduced by Liviu Antonesei, writer, publicist and professor at the Department of Education Sciences of "Al. I. Cuza "University of Iași.
---
American Independent Film Festival will be held in Bucharest, from 12th to 18th of April, at Cinema Pro and Peasant Museum Cinema, as well as in Iași, between April 11th-12th, at Cinema Athenaeum.
Tickets for Bucharest can be purchased on Eventbook. As for AIFF Iași, you can find them at the cash desk of the National Athenaeum in Iași or on the  Athenaeum Iasi website.
For more information, visit the AIFF website and the Facebook page.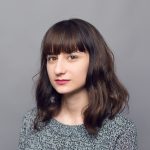 Melissa Antonescu