Olga Lucovnicova, a Golden Bear-winning director: "I wish a New Moldovian Wave would emerge as well"
The prestigious Golden Bear for Best Short Film at this year's Berlin International Film Festival, whose first session dedicated to the film industry and press took place online in early March, was won by a powerful 20-minute documentary by a young director from the Republic of Moldova, Olga Lucovnicova.
In "My Uncle Tudor", Olga Lucovnicova, a filmmaker based in Belgium, returns to her grandparents' country house for a family reunion, to confront her grandmother's sister's husband in an effort to overcome a childhood trauma for which the man is responsible.
"My Uncle Tudor" (2020) is the graduation film for the DOC NOMADS Erasmus Mundus master's degree in documentary Olga Lucovnicova did between 2018 and 2020 in Portugal, Hungary and Belgium. Therefore, the film is a co-production between the three countries.
During this program, the director worked on several shorts, the most important being "It's Not The End" (2019), a documentary about a woman born in Moldova but living in Portugal, where she managed to win the battle with cancer and become a successful marathon runner.
Born on July 1, 1991 in Soroca, Olga Lucovnicova moved with her parents to Chisinau when she was eight years old. She studied accounting, but at the same time she discovered photography, which became her passion and, since the age of 17, even her profession. For her undergraduate studies (2011-2015), she chose Cinematography at the Academy of Music, Theater and Fine Arts (AMTAP) in Chisinau, where she also did a master's between 2015 and 2017.
In parallel with her studies, she continued working as a photographer and also made her first two independent short documentaries, "One Little Rowan Branch" (2013) and "I Do Not Hate You, Death" (2015). The first is a portrait of a woman from the Ural region in Russia, and the second is about a folk and religious tradition in the Republic of Moldova, Radonitsa (ie. "Day of Rejoicing", a commemoration of the departed observed on the second Tuesday of Easter, in the Russian Orthodox Church).
I talked to Olga Lucovnicova about her career in filmmaking, about how difficult it was for her to make a film as personal as "My Uncle Tudor" and about the impact the documentary and the award it won could have in the Republic of Moldova.
You said in interviews that an important role in your career was played by your father, who at one point bought you a camera.
We moved to Chisinau when I was eight years old. I finished the first grade in Soroca and then we settled in the Capital. I went to "Spiru Haret" High School, then continued with college, where I studied Accounting. I was 15 and wasn't sure yet what I should pursue professionally. I didn't have a background in drawing or other artistic areas. While studying accounting, social media emerged. And on different platforms, I saw images and pictures of different quality. I liked the idea of background blur and I also wanted to have this effect in the photos I was taking. So I told my father that I want a more advanced camera. He agreed, but only if I proved to him that I really needed it and that I was going to make good use of it.
I started studying the rules of composition, taking still life photos of different objects and posting them on forums. I already had a small camera and I studied it from A to Z. It was summer, so I went to the seaside with my parents. It was the perfect moment to show what I could do. This little digital camera was in my hands all the time. I took photos of my parents, of different landscapes. When we got back, my father bought me a $1,000 Canon, which at the time, in 2009, was quite an expense, especially for a 16-17 year old. It was a great big camera and, at first, I didn't even have the courage to press the buttons. It sat in the closet for a few months, until my father realized that I hadn't started learning how to use it, so he sent me to a photography school.
It was still summer when I went to this school. The group I was in was very nice. We were all eager to master the art of photography as quickly as possible. I did an intensive course for a month and a half. And I started posting photo albums on some platforms. There was an immediate reaction from people, who started asking me about the cost of a photo shoot. At 17, I didn't know what to say. I did a session with a girl for free. But then she got all upset and started making such a fuss about me not giving her all the photos, but only 50 of them, the ones I edited. I felt terrible, because I spent a lot of time taking photos of a stranger and then editing them, and in the end I didn't even get a thank you. That's when I told myself that from now on whoever wants a photo shoot has to pay for it, because it's my time and effort. A lot of people started asking for my services. So that's how I started working at 17 as a photographer. At 18, I was hired by a magazine. Now I was sure that my future was in photography, not accounting.
How did you decide to go to the Academy of Music, Theater and Fine Arts (AMTAP)?
I had found out about AMTAP. Finishing college and then going to university to study photography and film, that was the dream. I remember going inside the Academy of Arts building just to see what it looked like. It's an old, historic building, where the Moldovan Parliament (called Sfatul Țării) held its activities. There were large stairs and large paintings on the walls.
But it was quite expensive. It was a four-year undergraduate program, and the fee was about $1,000 per year. My father told me: "But you already make money, so you'll be able to pay for your studies if you can't make it into the state-financed program" (laughs). I did enter the state-financed program.
But how come you went to Cinematography?
That's how it is there: every year, a different specialization. In 2011, when I entered, you could only apply to Cinematography. In 2010, it was Film Directing. In 2012, it was Editing.
After the dissolution of the Soviet Union, there was a major crisis in film in the Republic of Moldova. Moldova Film Studio no longer had a budget. There was no film school, because people would go to Moscow for studies. After 2000, Vlad Druc, an experienced documentary director and a very good professor, who would give everything for his students, came to an agreement with the Academy of Arts to open the Multimedia Department there. At first, students came to his house to watch movies. Step by step, by himself, he opened the first office, where even the students helped him with the repairs. The fact that films are now being made in the Republic of Moldova is largely thanks to him. Three or four years ago, they wrote to the Japanese Embassy and received a very large grant to buy equipment. When I was studying, there was no equipment. There were no budgets. There was no National Film Center.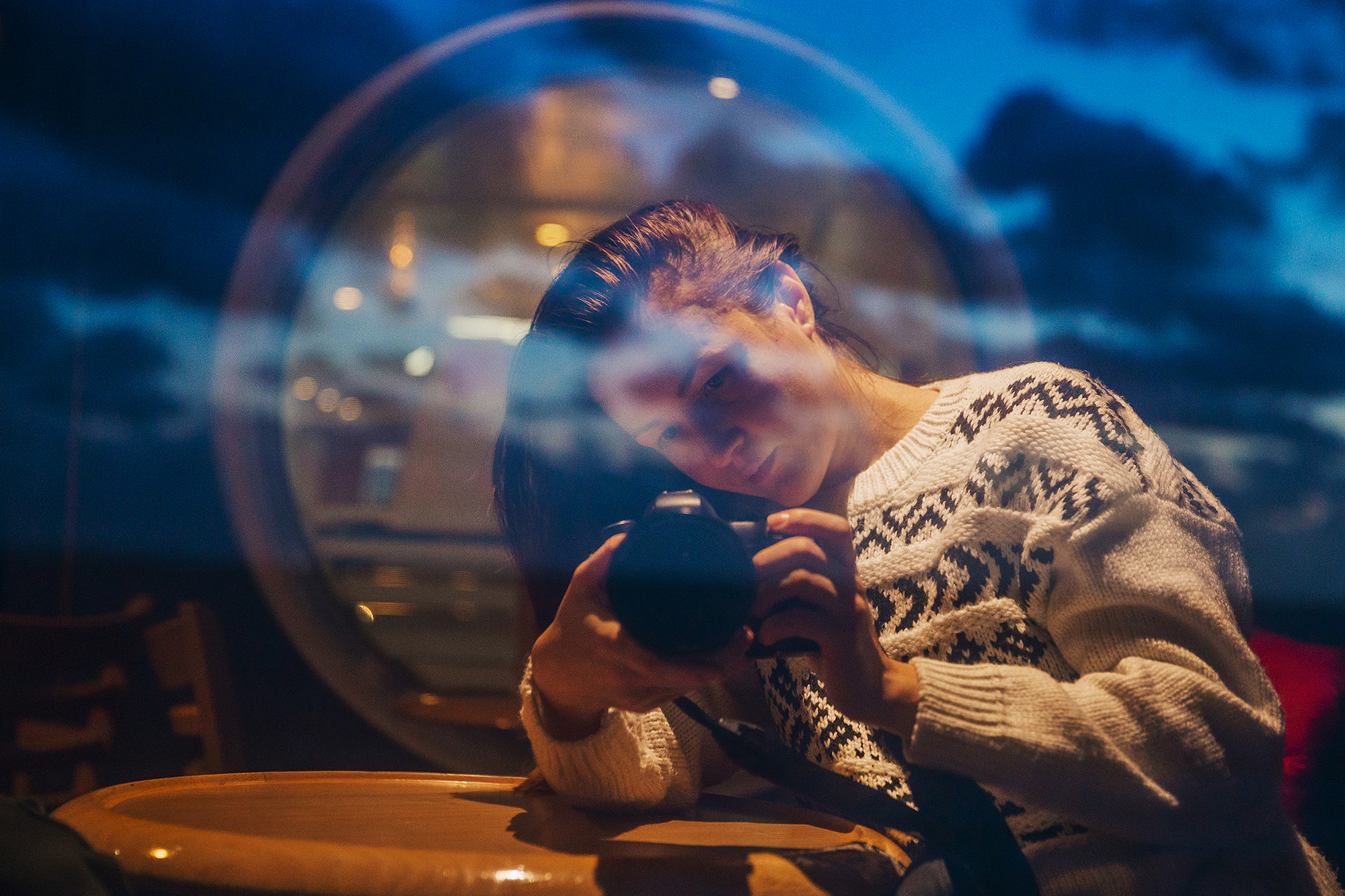 But would you have liked to study directing instead of cinematography?
Being already a photographer, at that time my biggest dream was to become the best photographer in Moldova, no more, no less (laughs). I had the opportunity to go study in Moscow, where my father went to see what the requirements were. I was about to go there. But, at one point, something stopped me. I said that maybe it would be better though to study in Moldova. And I still don't regret making this decision.
But I could see the reality from my experience in photography – it was a profession that girls were just beginning to step in. Society was more patriarchal, and cinematography was a field dominated by men. My father's friends told him there was little chance of a girl getting into this section. I was very stressed that I wouldn't make it. The summer before the exams, I did a short foray into arthouse cinema on my own. I was ready for whatever questions I was going to be asked. So I passed the exams, both practical and theoretical.
What was the undergraduate program like?
We were only four girls out of almost 30 students. I think that only 17 of us actually graduated. I also had one teacher from Romania, Paul Protopopescu, a DoP in television. He came to Moldova to work at Publika TV. He's a professional. And asks a lot of his students.
There were three professors, each of them with a different vision. Paul Protopopescu studied in Bucharest. Nicolae Pojoga, a great photographer, had taken some European courses. He was the head teacher. There was also Valeriu Ciurea, a documentary filmmaker who studied in Moscow. You went to all three of them with the same portfolio and they gave you opposite feedback. It was quite complicated, but it was also an advantage, because they each came with a different background. And I took something from each.
Did you continue to work as a photographer during that time?
Yes, I worked quite a lot. On weekends, I would go to expensive places and take photos, and then they would post the photos on their pages. This is how I created a solid base of customers. But I also did weddings and baptisms, plus various photo shoots. I collaborated for five years with the Jewish Cultural Center, I worked for the Israeli Embassy in Moldova.
But did you also work as a camera operator during university?
At the end of the first year, my father and I decided to go to Russia. I had never been before. He is from the Urals, which is a very remote region and very difficult to reach. There is no direct flight. I had raised some money and could cover for part of the trip. We went by train for four days. In the Urals, I met my grandmother's cousin. My grandmother died two years before I was born. We decided to make a documentary about this cousin of hers. That's how One Little Rowan Branch came out, my first film.
A former cross-country skiing champion.
I was struck by her appearance, completely different from our "grannies". Moreover, she writes poetry, although she has no higher education. She worked all her life in the factory. And, in general, everyone in town there works for that metallurgical plant. That's why I even went on filming the plant. It was very hard for me to make this documentary, because, although I knew how to film, I didn't know how to direct. And it took me almost a year to find its editing key. I showed it for the exam, where I got the highest grade. I also sent it to the IDDF Cronograf, but I had my doubts. When I was in my first year, Cronograf was the first film festival I went to as a spectator and it was amazing. I was dreaming that one day my films, too, would be shown on that screen. In the second year, I got the news that my film has entered the official selection, where I took second place (laughs).
Then my father insisted on making a film about Radonitsa. That's how the second documentary came out, I Do Not Hate You, Death. It's rather a folk tradition than a religious one. I don't know if it also exists in Romania. I think it's a tradition that comes from the Soviet Union. It's held a week after Easter. In Moldova, there have been many negative articles about this holiday, because there are some grotesque moments, and just like everywhere, it happens that some people do not understand the meaning of the holiday. But I decided to portray my childhood memories of this holiday. I used to go there every year. It's the only time when the whole family gets together. Everyone dresses nicely. People walk through the cemetery, greet each other, give each other gifts in memory of their loved ones and reminisce about their good times together. There's something very beautiful about this holiday that I have tried to express. The poem I Do Not Hate You, Death by Grigore Vieru, which my grandmother recites at the end of the film, helped me a lot.
You were studying cinematography, you had your job as a photographer, in parallel you had these documentary projects. When did you realize that this is what you want to do and how did you end up studying for the two years in the Erasmus program?
When I finished my first year of study, there was an opportunity to apply to Erasmus+, a one-week training program, some sort of an exchange of experience. We, 16 students from the Art Academy, went to Vienna, as part of a collaboration between Austria and Moldova. As film students, we gave lessons in cinema to Austrian actors, and in turn they gave us lessons in acting. For me, it was a breakthrough, a revelation. For the first time, I was in a European city, Vienna. I knew then that I would like to study abroad, to discover other cultures, too. Moldova has a certain geographical position – bordering Ukraine and Romania, two large countries – and it's very difficult to go abroad. Even plane tickets are very expensive.
Thanks to these Erasmus+ programs, I was able to travel to several countries – Armenia, Georgia, Italy, in parallel with my studies. That's when I started combining film with the concern over social issues. All our projects within these programs were made with the purpose of using the audiovisual medium to communicate social messages. At the beginning, I was just a participant and I had photo projects or made short films on social issues. Then I became a trainer – I taught volunteers from different countries how to use these means to communicate their messages.
The goal was to study abroad. Not necessarily film directing. I knew about Erasmus Mundus and the Doc Nomads program, which takes place in three countries in parallel. I first applied when I was in the fourth year of study, but I didn't have my diploma yet, so I didn't pass the admission. That's why I decided to do a master's degree, also in Cinematography, at AMTAP.
But in the meantime I applied to other programs. I didn't think I had what it takes to also be a director. I saw it as high level. At first, I wanted to be a photographer, and I saw that I could do that. Then, I saw that I could also be a camera operator. But when it came to directing, I thought I wasn't ready for that yet. I thought I needed more life experience. After finishing my master's degree in Moldova in 2017, I went to Latvia for a year, as a volunteer. I worked for a Latvian NGO, at a youth development center. I worked on some documentaries and photo projects. There was also a movie club. From there I applied to Doc Nomads, the Directing section, where I entered in 2018.
The time at Doc Nomads made me understand that I'm also capable of directing. But not right away, it was a gradual process. Probably only in the second year of the program did I understand that this is what I want to do and that there are no limits in filmmaking. Making films means teamwork, and I like that. But sometimes I feel more comfortable when I'm behind the camera and talking to the protagonists. I have a certain intimacy that I can't have when working with a large team. The films that I made up to My Uncle Tudor were about other people. And in all of them I wanted to get to the depth of the human personality. Have an intimate dialogue with the protagonists. Which is very complicated. Especially in the film that I made in Portugal, It's Not the End. It was my first project within the Doc Nomads program, focusing on a difficult topic – cancer.
That's when you realized that filmmaking is not as hard as it seems and that you can break through your personal barriers.
Every artist feels a bit insecure about their own abilities. Personally, at first I need to prove to myself that I can. Probably my fear of directing was also related to the fact that the first films were very difficult to edit and I managed to finish them with the support of my teachers – Nicolae Pojoga's on the first short, and Vlad Druc's on the second. I got this idea in my head that I'm not capable of managing just by myself. It's hard to explain. I think it had to do with a lack of confidence.
But there was another problem. When I was studying cinematography, I could only think in pictures, but not in stories. I knew the type of shots I wanted to use in the film, but I didn't know how to actually build it from beginning to end. At Doc Nomads, after several projects, I started to think from a director's perspective.
The film you made in Portugal showed you that you could do that.
That was the first step. It was only after I finished my studies that I had the time for personal reflection. The program was very intensive. I made nine short films in two years, three in Portugal, three in Hungary and three in Belgium. There's no time, you need to think about the idea, find the character, and every time it's an unknown country. In each country, the first short film was a team effort between two directors. The second short film, a team of five or six directors. Very complicated (laughs). Only the third was your personal film.
My Uncle Tudor is the graduation film, made while you were in Belgium.
In our final year, we had to decide which country to make the thesis film in. And I decided to stay in Belgium. I went by my intuition. I knew even before entering Doc Nomads that I should stay in Belgium.
Until My Uncle Tudor you followed other characters, all female. It seems that you are more interested in women's stories or that it's easier for you to approach them.
Yes, it probably is easier. Even when I was working as a photographer, the photos I was taking were rather focused on women. But it's not a conscious decision. When I was making the film in Portugal, I had several potential characters. But Elena's story inspired me a lot, because my paternal grandmother, as far as I understood, also had cancer. That's why the topic was painful, sensitive. For me, cancer is a mysterious disease that you can't control. I admired Elena, the fact that she overcame it and became a champion.
But you're absolutely right. In Hungary, too, I worked on two projects and in both cases the main characters were women. Maybe it's related to the fact that I simply understand women better than men, since I, myself am a woman. Anyway, men are from another planet. In these two years at Doc Nomads, I learned that in documentary film you have to approach the topics you know best.
But how did you make the decision to make a film about yourself and your trauma?
In Belgium, my previous project was about a man there who was in a tense relationship with his mother. It was important for me to show that aspect. But at one point, he said he couldn't continue with the project, because it was a personal thing and he didn't want to show it to the world. All my films show the personal lives of the characters. So I started wondering whether maybe I was asking the characters something that I, myself could not offer. I realized that in order to grow further as a director, I had to cross this barrier, to open myself up, because only then I could ask for the same level of honesty from my characters. That's what I would call fair – I can't ask my characters to show me their secrets, when I as well got some stuff buried. I had to put myself in their shoes. That was probably one of the points that led me to making this film. One of the main questions that I would ask myself.
Another moment that made me think about this film was a discussion I had with one of my colleagues from Doc Nomads, who showed me a video with a director from Russia, Aleksandr Rastorguev. A very determined director who made some really good films. He was killed in 2018 in the Central African Republic by the Russian regime. And in that video, he says the film starts from your greatest suffering. That's when I started asking myself what my greatest pain in life would be. And I went back to my fragmented and vague memories and I decided to make a film about it.
How hard was it to make that decision? You seem to have realized that film can be a way for you to finally talk about your trauma.
This decision took me several years. In general, it's much harder for me to express myself in words. That's why I make films. Anyway, the camera is an excuse to go where I couldn't go, to ask what I couldn't ask just by myself. In the film, I wanted to show this duality in the family, which was very painful for me. You know something went wrong, but you care about the perfect image of the family. Indeed, I have a very good family. They all have higher education.
I don't have many relatives in Moldova. As it's mentioned in the film, I am Moldovan, of Russian and Ukrainian descent. My father's side of the family is in Russia, in the Urals, and I only saw them once in my life, when I made One Little Rowan Branch. My grandfather, who died when I was nine, has family in Ukraine, and I only saw them twice, when I was a child. In Moldova there's only my mom's side of the family, and she's an only daughter. The family here is quite small, but close.
And in this family there is such a person who in front of the adults behaves exemplary, but in the presence of children he changes his personality. And no one has noticed that for many years. He is the husband of my grandmother's sister and the one who baptized me. This very duality, when you know that the given person is not as perfect as he's trying to pass and that you have to sit by him at the table and smile, was the greatest pain for me.
Were it to be a stranger, you could very easily not approach them. In this case, the family is on your side, and they become an enemy. But when this enemy is part of the family, it is very difficult for the family to understand how they should behave in this situation. For me, this very aspect was the core of the film – the very complicity of family relationships, when there's a person in the family who is inappropriate and does not understand the gravity of their actions, but also the way I address this reality. That was a difficult thing for me, both in real life and in the decision to make a film about it. But I have reached a point where I could no longer stand on the sidelines, because keeping silent would have meant that I agreed with this duality. Now that I'm studying about trauma and memory, I have understood that the only chance to get out of this vicious circle of psychological problems caused by past traumas is just to communicate them. And somehow try to get over them, to understand this complicated process.
Therefore, it was my only way out of the situation and the only decision I could make, because otherwise I would have remained a naive child who closes their eyes to everything that is wrong. Then, I had a background in communicating social issues through film, so it would have been hypocritical of me to keep quiet about this personal thing. I try, in a way, to change the world through film, but it doesn't apply to my family. I understand that they are trying to keep this ideal image as always, but that is why new generations are emerging, to change the situation.
You said in interviews that you weren't really looking for revenge by making this film. And it seems that you think the film could also have a therapeutic role.
For me, the hardest part was keeping quiet, in general. To continue with this secrecy and the ideal family portrait. As I said, I have very fragmented memories. I don't know what really happened and how it happened. Twenty years have passed. The only person who could answer these questions was the person responsible for these memories. But I didn't think I would have enough strength for a direct dialogue.
What was your plan when you went home to make the film? Were you prepared for a confrontation with him?
I hadn't been to my grandparents' house in many years. I didn't even have a discussion with my parents about the fact that something bad happened when I was little. That's why I didn't think I would have the courage to face the situation and ask about it. The plan was to film the family reunion as it was and, in parallel, to discuss with my father about the duality that persists in our family, because for him, too, this fact is outrageous.
But after ten days of filming, I saw that my uncle goes to the garden, where he just sits by himself. So I thought maybe it was the right time to go talk to him, that maybe he wanted to tell me something. In my mind, I thought he was going to the garden to have his alone time and reflect on his life, because he was 80 years old and definitely had what to think about. I began by asking him about other things, about regrets he might have, about religion, about what is good and what is bad, about sins, about sins that can be forgiven and sins that cannot be forgiven. And that's when I asked him about that childhood moment. I asked him what happened and why.
That's how you got to the discussion we hear in the film. I guess it would have been impossible to also film this moment.
I didn't know what the conversation was going to be about. It was simply a subconscious and intuitive urge that we need to talk and that it needs to happen now. We hadn't talked for years and certainly not tête-à-tête. I took the recorder and put it in front of me. It wasn't an undercover recording. The discussion lasted about two hours. At one point, in the middle, I pressed a button and he asked me if I was recording and I said yes. I asked him if he was against it and he said no, but he didn't know how I intended to use this material. It was not until the next day that he realized that he may have said something wrong, inappropriate, and that this material could be used against him. He began to fear the police and other potential consequences of this material.
From a technical point of view, the film was very difficult to make, because I did all of it on my own: filming, sound recording and directing. It was a one woman show.
The images are powerful and the directing is intelligent – the camera often hides behind window curtains, behind doors, from where it observes discreetly. How did you design its structure? It feels like the intention was to contrast the memories related to a certain peaceful atmosphere of the house and the trauma kept secret.
There are a lot of films about childhood trauma. Even in my group, there were films made after stories similar to mine. If it was just about trauma, I could have made the film while living in Belgium, in my apartment, because it would have been enough to tell my story and the things that I remembered. But the contrast between the happy and ideal family and the trauma that a child can suffer in such a family leads to a greater reaction. I used the audiovisual tools to get to this point.
Visually, I was inspired by Love is Potatoes (2017), a film by a Dutch director but from Russian descent, Aliona van der Horst. She returns to her grandparents' house and the house becomes the main character in the film. She expresses her emotions through the architectural and decorative elements of the house. That's what I tried to do, as well.
My Uncle Tudor was planned to the smallest detail before going to my grandparents' house, I worked for three or four months on the script and on the audiovisual concept. Basically, I knew what I wanted to film, how I wanted to film, what elements I needed, what symbols I wanted to use. From this point of view, the shooting process was quite simple, because I already had everything planned in advance. I knew this house very well and that it was almost a century old. I knew I needed the contrast between warm light and cold light and some elements that showed its age. Because this house is a character who knows the history of the family and still keeps the memories of the past.
At the same time, I knew from the beginning that I would not use music in film at all. Only at the end I used a well-known folk song, very important to me. I asked my godmothers to sing it together. For me, this song is very profound. It represents this very silence: you want to shout about the suffering you're going through, but you can't, you keep it to yourself. And this is, in a way, the message of the film, that certain circumstances require us to be silent. It was also in this house where I learned the song. It hides many meanings. But the absence of music in the film creates this tense atmosphere, where all the focus is on dialogue and the image within the frame.
Sometimes there is a feeling that you want to recreate that atmosphere in the house from the traumatic past. There are times when you capture him through the curtains, sitting on the bed in his room.
There are probably a few mental barriers that remain, because it was hard for me to film him directly even now. It was planned in advance to film through those white curtains, and the initial title was a reference to these white see-through curtains, but at one point I felt the need to change it.
Then there is that beautiful final scene with you, as if freed from your burden and able to breathe again.
The ending was the hardest decision in the film. It led to a lot of debates with my professors. Yes, I tried to show this relief, which is also intended as an encouragement for other people. After finishing the film, I found out about other victims of the same person. I don't know how many children he traumatized in total. Personally, I know about four. But I think there are many more in his biography.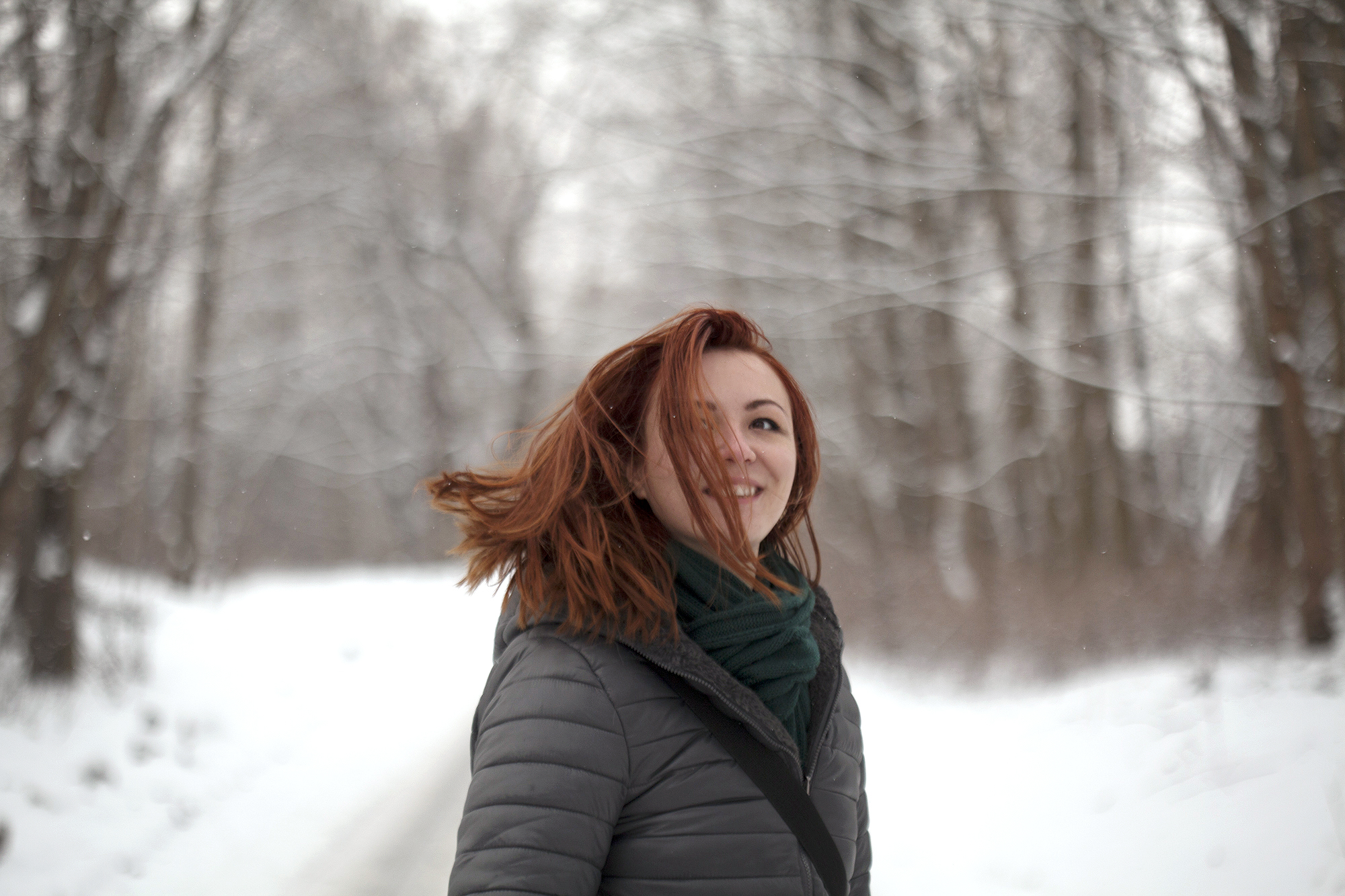 The film explores a taboo subject. What impact do you expect it to have in the Republic of Moldova when you will be able to release it and it will be seen by the general public?
It was important for me to talk about trauma in general, whether verbal or physical. I wanted to emphasize that these traumas are most often caused by family members or family friends. Meaning, by a person who has access to the child. And the traumas do not remain in the past, they affect the child, and this aspect must be discussed.
For my next project I will continue to explore the idea of traumas, traumatic memories. But this time, I want to address a global concept – the trauma and the collective memory of a nation. I will refer to the post-Soviet territories. Our society, which went through totalitarianism, just like Romania, still suffers from these traumas, from the memory of that regime. I think that it's because of these traumas that we are so silent, so afraid to talk about important things, and we put so much effort into presenting an ideal image of our society and our personality. This is nothing more than an echo of the past. In my next film, I will continue to address this issue, because it is my belief that we should get rid of this past that limits our potential to develop our society.
Do you expect the film to spark such discussions in Moldova?
So far, the film has been seen by a very limited number of people. It's not a fiction film or a documentary about another person or investigative journalism. It's a very personal film. Therefore, I take the reactions quite personally. At the same time, as a director, I take full responsibility for the film, so I should also take on the reactions and the impact that will follow.
Therefore, I still have to think about its distribution in the near future, especially in the Republic of Moldova and Romania, because it can indeed affect other family members, who are not to blame for the family's past and who have just begun their journey into adulthood.
However, it has already sparked much discussion. In the film, I try to express my feelings, but behind it lies an extensive research on trauma, on family psychology, on child psychology, which in a way works as a scientific support. And presenting the film without these academic studies might lead to misunderstanding its message, because many people will perceive it through their own experiences and knowledge. That's why I will need more time to think about how I could have an impact on Moldovan society, but also protect the identity of other family members and spread this academic knowledge I gained in the pre-production stage of the film.
Clearly, the Golden Bear you won will be of help in your future projects, and it's only natural that it should happen this way. What was the reaction of the people in the Republic of Moldova at the announcement of the award? The film is, technically, a Belgium-Hungary-Portugal co-production, but to what extent do you consider that the award also belongs to the Republic of Moldova?
I am a director from Moldova. I studied cinematography in Moldova and then went studying directing in Europe. I wanted the Republic of Moldova to be among the producers. I could only do this if I collaborated with a production company from Moldova, but it didn't happen. Therefore, the Republic of Moldova is not featured as a producer of the film. But I really want the next film to be produced by the Republic of Moldova as well. I think that's only fair.
My Uncle Tudor is a student film and I made it during my European studies. This is the reality. I could not have made the film if I was in the Republic of Moldova, because I needed a certain distance. I needed a different environment, that didn't feel that familiar to me and rather different from our culture. At the same time, I don't know why, it's much easier for me to express myself in English, especially in a cinematic context. However, I am both the DoP and the director of the film, which was shot with my personal camera. Taking into consideration how much it contributed to my cultural and educational development, the Republic of Moldova has every right to regard itself as the co-producer of this film, even if I could not officially include this detail in the description of the film.
Do you expect this achievement to be a boost for other filmmakers in the Republic of Moldova? In what way do you believe the award will influence the current state of cinema in Chisinau?
Technically, now it's much easier to make individual film productions. I think Romania is a good example – it wins awards everywhere, at all festivals, and its cinema is exceptional, highly praised around the world. I wish a New Moldovian Wave would emerge as well, but not based on commercial productions. I've noticed that many directors try to take on the American commercial style, with a lot of light, with the perfect framing, but forget that all these elements are nothing if they don't have a message behind, if they don't work on the dramatic aspect of the film.
The traumas and memories of the past have turned us into very inhibited people. I think directors should get over these barriers. Especially young directors. This is so that deeper and more dramatic films can be produced. From a technical point of view, I think we could easily compete with the international market, but we need to put more emphasis on dramaturgy and go beyond the superficial limits of social phenomena and human dramas, in order to be heard abroad as well.
Now there is this international trend of making films based on personal experiences. Only by knowing a history from the inside, to its deepest levels, can you insert those details that give credibility and depth to the film. When you choose to talk about a history that is not familiar to you, you will keep it superficial. I only hope that more directors will try to look into their inner world and find the best cinematic expression of it.