Silvana Mihai: "The camera is my partner, always on my side"
Silvana Mihai gained recognition for her role in "Several Conversations About a Very Tall Girl" (2018), by Bogdan Theodor Olteanu, where she stars along Florentina Nastase – the story of two girls from Bucharest who fall in love with each other. Her character also makes an appearance in Olteanu's new film, "Mia Misses Her Revenge", which had its world premiere in 2020.
Last year she also starred in the short film "Along Came a Prince", by Cristina Grosan, and in 2021 we will get to see her in the new feature by director Gabriel Achim, "Snowing Darkness". In 2020, she also worked on a short film by Ioachim Stroe, "Clown Life" (working title), due to appear this year, as well. She has been starring in short films since she was a student, was cast in the second season of the series "Shadows", by Bogdan Mirica and Igor Cobileanski, and, among others, she has appeared in films such as "That Trip We Took With Dad" (2016), by Anca Miruna Lazarescu, and "6.9 on the Richter Scale" (2016), by Nae Caranfil.
In theater, Silvana Mihai is one of the most casted and appreciated young actresses. She has collaborated with a long list of directors and has been an employee of the Small Theater Bucharest since 2016.
She was born on November 21, 1992, in Botosani. She attended the Mathematics-Computer Science class in high school, but in the 11th grade she transferred to Social Sciences. In the 9th grade, she joined the school theater group. After high school, between 2012-2015, she studied acting at UNATC (ie. film school in Bucharest), where she also got an MA in 2017.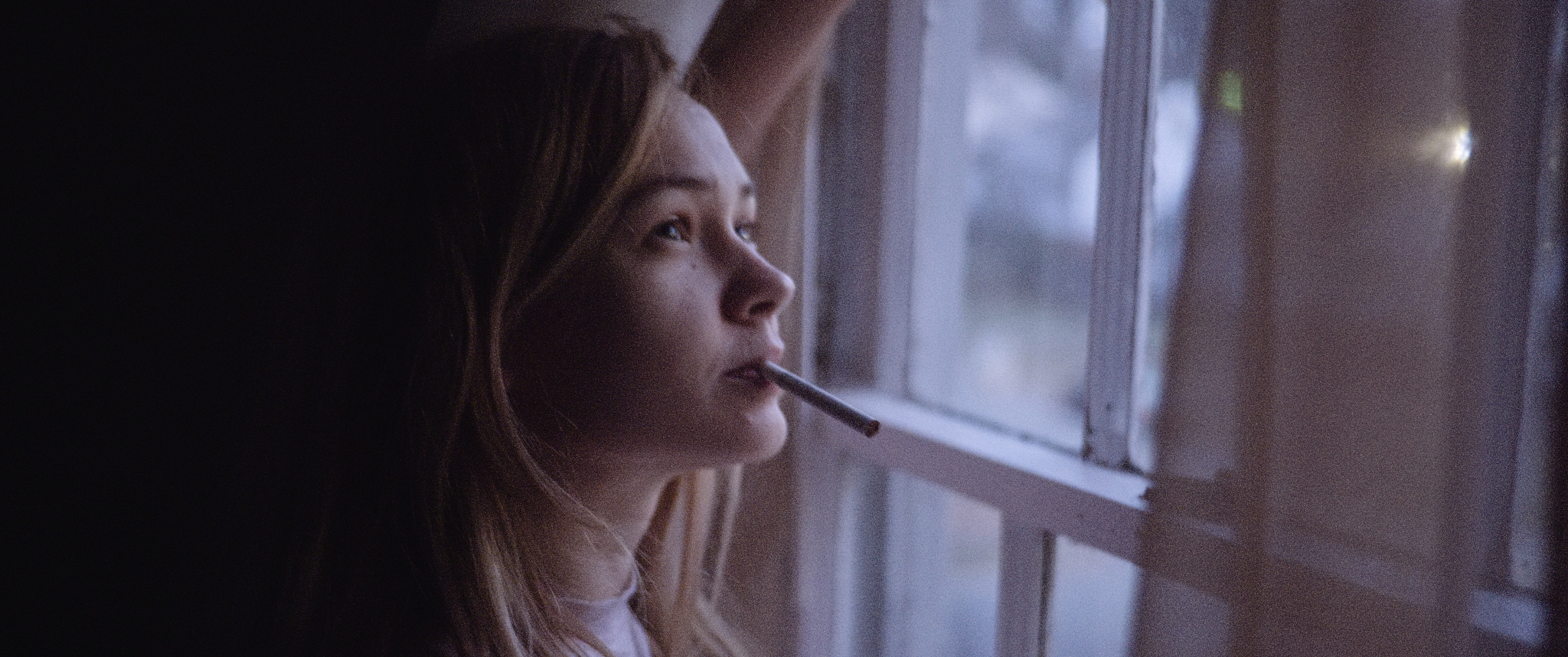 You said in an interview that you were shy as a teenager. How did you come to acting? Where did the attraction come from?
From several directions. First of all, I didn't understand why I had to go to school. I was always a good student and got high grades, but I wasn't that great as to say that's what I'm made for. I felt that what we were learning didn't apply to reality, that there was no connection with real life and that it was just a waste of time. My parents were very strict – I couldn't disappoint them when it came to school. They expected everything to be a certain way, even if it meant that sometimes I shouldn't act according to my own desires. I was quite confused, so at one point I just didn't feel like studying any more.
Secondly, my parents took me every Sunday to the puppet theater, then to the local theater. We went to all the plays, several times even. We would even talk about theater at home. We also went to symphonic concerts almost every Friday. There was a cello player I absolutely loved. I would watch only her. But I was more interested in her craft, the way she carried herself during breaks and the glances she exchanged with her colleagues before they started playing. I wasn't interested in the concert itself and the applause, but rather in the way she walked onstage, or sat on the chair. I would always watch her fix her dress. I was also fascinated with the way she was standing there, legs open, in front of all those men in the orchestra. I was quite young, but I could notice these things. I was amused with it, although everyone around me seemed very serious.
But what did acting offer you at that moment, and how did you feel it helped you in life, unlike at school?
We would do a lot of exercises on "self-discovery", although I'm not a fan of this term. They were meant to make us have an opinion about the present moment. We would do impressions of our teachers, but it wasn't to mock them, rather to understand them. We were a bunch of kids from different classes. I was curious about what they thought of the teachers, what moved them, what they were afraid of. That's what I missed in school. Until then, I hadn't had this kind of discussions with anybody else. I felt like there was finally someone interested in my being: So, do you like what you do? Are you happy with the world you are in? How's life at 14-15? It was different from your usual – school, home, eat, learn, and then all over again.
How did it come to terms with your shyness?
I'm shy even now, but probably in a different way. I know how to take care of myself now. You know, like a princess with superpowers (laughs – n.r.). Back then, when we would do those exercises, I often had the feeling that I wasn't really talking about myself, but about something more important than that. It seemed as our ideas were intertwined and that together we could discover something new, and that we had a higher purpose.
I would read about theater, I would go to rehearsals, talk about characters and how I see things, so I would slowly forget about my person and my shyness. Besides, I had become comfortable with them, and that's very important.
Were you also passionate about film? Were you a moviegoer?
Yes, I was going to the cinema. I think I started going willfully from the 7th or 8th grade. I even became friends with the manager of the movie theater in Botosani and he would roll the film even if it was only me or two people in the room.
So you had a movie theater in your town?
Yest, Caleidoscop Cinema. The classic. That's where I was going. There used to be another one, but it closed. I was very little, I remember going there to see Antz with my parents. But now, we also have a movie theater at the mall.
Did you also watch movies at home?
After joining the theater group in the 9th grade, we slowly started to come with film references, to watch them together and then discuss them. I even started downloading movies on the torrents, but I also watched everything that was running at the local cinema. I would go to every movie that was in the program, without really considering if I liked it or not. I remember, for example, seeing Chucky, which made me jump up so hard that I hit my head on the chair behind me. I also went to the Romanian premieres screening in the presence of the teams.
For college, you applied to both philosophy and anthropology. But when did you decide to apply to acting, as well?
I was a good kid. But going to the theater rehearsals and "wasting my time" there, that was my worst doing, probably. And in the 11th grade, things had gotten pretty serious with my uncertainty regarding the university that I should apply to. There was no other way around – I had to tell my parents what university I wanted to go to and what I wanted to do in life.
I gave it a lot of thought, I considered all my options, I made pro and con lists, it even came to a coin flip. I remember looking at my watch and saying: If the last number is even, then I can go to acting. It was even, but I would immediately second-guess it. I went through all these stages. I never said loud and clear that I would like to be an actress, because I was aware of the "filth" that exists in this world. I was aware that it's just like any other profession, but I wasn't familiar with it because it didn't run in my family or in my entourage (ie. her father is a firefighter, and her mother works in the legal field). I narrowed it down to only a few options. In the end, I went with acting as my first option, but then I thought that it would be clever to also have a plan B, in case I wouldn't pass the admission exam. My next two options were philosophy and anthropology. It was all very unclear. So I decided to follow my instinct and see what happens.
You said in an interview that, in high school, when you participated in that year's edition of the Ideo Ideis Festival (ie. local youth theater festival) where you also got an award, Marius Manole (ie. Romanian actor) gave an interview on TV where he said that this girl's parents – and he was referring to you – need to let her study acting, and your parents saw that.
In 2011, our theater group participated in the festival with Momo, a piece by Michael Ende. I had a leading role. My parents were on vacation, but made a detour to Alexandria to see our play. They didn't give me a heads up, it was all a surprise. Although they were concerned about my interest in acting, they weren't against it. In fact, they love this world. But, probably, it was weird for them to see me choose this career. They considered it a hobby, some sort of game.
Someone from the national television had come to the festival to do a kind of retrospective, and Marius Manole, who had been on the jury, was asked if he had discovered anything new or what was the highlight of the festival, and that's when he said my name and added that my parents should encourage me to study acting. I didn't know that he said those things until me and my mom saw the piece on TV. We both froze. Well, perhaps my mom more than me. She got very angry.
In the end, how much did this moment contribute to your decision to go with acting? Did it influence your parents' stance?
I think that for my parents it was important that someone from that world told them that I was right for the job or that I had what it takes to be an actress. Nonetheless, I think it's very complicated to decide on such a school when you're 18-19 years old. And I sometimes wonder if it weren't better, for example, to have an age limit at UNATC. Perhaps, to be allowed to apply only if you are over 25 years old. To get some life experience first. But now, you barely finished high school and the next thing you know, you are in the acting class where you have to play all these dramas and tangled relationships, and you've barely kissed someone a few times.
How were the three years of undergraduate studies at UNATC for you?
When I arrived in Bucharest, I had the feeling that I was at a never ending festival. That's because I knew most of my colleagues and professors from the theater festivals for the youth.
But I wasn't very happy in college. I found it a bit unsettling. It was awful that I had to cry in all sorts of scenes. I was meant to leave the classroom, go down the hall, then return immediately and start crying once I opened the door. I just couldn't grasp it without feeling a bit uneasy.
I had some great teachers. In acting, we had Alexandru Jitea and Mircea Rusu, who had very different ways of approaching things, but which helped me a lot, as I came to realize later. Alexandru Jitea helped us understand the text and then discover the situations. After that, how to get into a particular situation. Whereas Mircea Rusu, he was rather guiding us from the outside to the inside, we played different characters and we had to go by the notes he gave us, which were, obviously, dependent on certain situations in the text. He knew his stuff, only I didn't quite understand the whole thing. And I felt like I was simply operated by someone else.
I was in survival mode. All I wanted was to get through the acting class and get to the end of it. Which is not OK, and I don't understand how I didn't realize then that I was so delusional. I was behaving like in high school, unfortunately. But maybe that's because they, as well, treated us like that. We were all children, students, a bunch of sorry sacks.
Did you have any doubts at that time about your choice to pursue a career in acting?
No, no doubts about it. The doubts only came later. In fact, it's now when I have doubts (ie. laughs). At the time, it just wasn't what I imagined it would be. Obviously, I didn't expect to talk about all that is eternal or some deep stuff like that. But I suddenly woke up in this place where, in just a few months, I came to be terrified by something that I seemed to very much like at first. I just wanted to be done with the acting class.
What about film acting?
There was only one course on film acting, taking place once a week, and I remember we had to prepare some monologues which we filmed and then watched together. My moment was a total fiasco. I played The Fox in Little Prince. I didn't even go with a movie character, we all chose at random. Everything I learned, I learned while working on film projects, on my own and at the expense of other people's patience. I worked on all kinds of short films in college, although the school itself doesn't offer you the ground to meet your colleagues in the Film section.
At the same time, you started collaborating with theaters.
I first worked at Excelsior, in my third year of college. After graduating, I got the role of Juliet in Romeo and Juliet staged by Victor Ioan Frunza. That was my debut role. In the second year of my masters, I was hired at the Small Theater, after I got the role of Wendla Bergmann in Spring Awakening by Frank Wedekind, staged by Vlad Cristache.
Even if you weren't very happy with college, you remained at UNATC and went for a master's degree in acting.
I chose the master's in acting because many colleagues went with this option. If in the first year of college I felt like living an ongoing festival, after taking my MA, because I was already working, it felt like being in a neverending school. It was only recently that I started to digest the information and realize: Wait a minute, I really am an actress now. I'm employed, I'm not in school anymore. I'm a person. I can say what I think (laughs – n.r.). I no longer have an authority figure shadowing over me.
That means that by the time you finished school, you weren't afraid of what was to come.
Not. Not even a little. I was rather shocked to have completed this chapter of my life called "school". There's still a lot to learn. But, without doubts, school remains this safe environment for your own sanity. You're still allowed to make mistakes. Then again, that was not what I was thinking when I was a student.
I was never afraid that I might not profess in this field or that no one would notice me. For example, I never signed up for an agency. I didn't go for it, maybe because things happened for me, projects came in one after another, and there was never a spare moment to think that I might need to do that. Only now, with the pandemic, I went on hiatus. But so did everyone else. Still, for me, that was completely new. I'm very moved and I have a lot of respect for my colleagues who go through long periods of time without working, and yet they fight for, they have faith in, and they respect this profession. I don't know if I could go through something like this.
As for cinema, you started acting in short films as a student. You starred in a short film by Bogdan Theodor Olteanu, with whom you then collaborated on Several Conversations About a Very Tall Girl, where you had your first lead role, and then on Mia Misses Her Revenge. What was it like working on Several Conversations …, and how was the collaboration with Bogdan?
I met Bogdan when I was in high school, at Ideo Ideis. I admire him a lot, because he was one of the ​​people who asked me what I really thought. He's not the kind to show you something, and you, if you want, you go with it, and if not, you leave it behind. This collaboration with him for Several Conversations … was built in steps.
For example, at one point he wrote to me on Facebook, I think, and asked me what would attract me to a woman. But we already had this open work relationship, and there were no judgements such as "Dude, why are you asking me that?" We had this open ground where everyone could throw an idea, without judging, without questioning the motive. He would sometimes send me what he wrote and ask for an opinion. I would ask him about a certain film. We had this kind of dialogue that I didn't really have in school. It was in that context that he asked me that question. I told him that I would be attracted by the way she eats. Pretty obscure (ie. laughs). He went on and put that in the film.
Then, the three of us – me, Florentina (ie. actress Florentina Nastase) and Bogdan – had weekly meetings for two months. We talked, we made changes on the text, we rehearsed. I really liked that I was able to be part of the process, that Bogdan brought me in from the first moments he had the idea for the film. That's what I often miss in projects where I just come and act
Tell me more about this process.
I believe that in such moments it's very important who you choose as an actor, because the actor has an important say in the creative process. I cared about this thing. Until then, I hadn't had the ground to express my opinion, my point of view. He gave me this chance. It's a nice way to get tricked into it, because most of the rehearsals are based on improvisation. It makes you think about it all the time, even after you come out of rehearsals, because you are involved in several ways. You're stuck with all these ideas in your head, and it works differently than when you read a text, you learn the lines and then you deliver them as best you can in front of the camera. I feel more comfortable with this way of working, because by no means there is this idea that you could do wrong. It just keeps you alert non-stop. I like to know that I'm not just an actor who comes in and says the line. Just an actor in haste (ie. laughs).
What about ​​casting? How do you dwell on it?
If I go to a casting call and I don't know the text by heart, I mess up my audition. I find it disrespectful not to know your text perfectly. That's very important.
There's something different about me when I go to castings, because I go there without any expectations. I just go, audition and then move on. I'm not that used to castings as to say that nothing gets to me anymore. I get very nervous and since it's very similar to being onstage, I get a bit nauseous, as well. But I go on with it and then I'm done. I screwed up many times. I tipped over chairs and tables. But I try to come to terms with my way of being. Still, sometimes I can be like a tornado. Eh, what can you do? (ie. laughs)
You said somewhere that you get very nervous before going onstage, as the play is about to start. What about shootings?
In theater, it's actually much better. You are nervous, but the show starts at some point and once you step onstage and get into character, there's no going back. Whatever your state, you only have one option, to make it to the end. But with film shootings it's different, you have breaks between takes or scenes. And you have to keep your energy level up, and not come apart. In theater is like doing a one-shot film, and once the show is over, you go on about your own things. Film shootings involve longer periods of time, larger teams, so a higher level of stress. If you say one wrong word, there's a bunch of people waiting for you to get the line right. I still don't know how to deal out with my emotions, that is, when I have a break, actually treat it like a break and chill.
How do you keep your energy and mood from one scene to another?
I try not to exhaust myself. When I say mood, I'm not talking about the character. I simply try to enjoy the break. Not to turn it completely off, but not to act all hectic and messy, because then I won't have the same verve for the next takes or scenes.
What do you mean by that?
I'm talking about being clear in intentions, gestures, actions and nuances.
You also said in an interview that it's hard to bear the failure of a role. What would such a failure entail?
I can't talk about film, because I haven't worked on that many projects. But in theater, it means being completely displeased with what you do. To only care about getting the scene right, to cry when you have to. To be like a robot going through pre-set moments. I really believe in the idea of enjoying yourself while working. Both in theater and in film. If you're too concerned about all this, you risk missing the moment and then say: Everything was so wonderful, but why wasn't I aware of it? It wasn't once when I finished a project and said: Damn, what now? How do I resume my life? Where was I before? What was I doing? Because you are completely immersed in that world.
How do you see the relationship with the director?
It's important that we are both passionate about the subject. What's the point of getting the role, if that issue is of no concern to me as a person? In this case, it's doomed from the start. As I see it, this is the first and probably the only must at the beginning of the collaboration. Then, I really like that people see this profession differently, and I adapt to their way of being.
How much are you intimidated by the camera?
Whatever you do, you can't beat its strength. If you go thinking that it's a war between the two of you, you'll definitely lose. It notices everything, that I know for sure. Simply put, I try to go with the flow, not against the tide. I see it as my partner, always on my side. It's not something set at a distance and looking at us with indifference. The camera is the pink elephant in the room, the one you hug, sometimes stumble upon or get right in its face.
You said a few years ago that you hate seeing yourself on screen. What about now, do you feel the same?
When I saw Several Conversations … for the first time, it was such a huge shock to me. It was at TIFF (ie. Transilvania IFF). The fact that I was trapped in my seat, paralyzed, unable to leave the room, and had to watch myself for so long, it was unbearable. I didn't like it. Now it's like going to the doctor – I check the x-ray to get a hint on the diagnosis. Did it turn out OK? Can people understand what I wanted to convey? I don't invest that much in it anymore.
It's not my favorite thing to do, but it's part of the process – to watch yourself and see what you've done. That's when the circle is complete, when you see on the screen the finished product, the result of what you worked on with the team. But it's such a long period between the shootings and its screening that it becomes some sort of diary. You can even remember what you were doing at that time. It's like a time capsule.
What do you like about film acting? What does it offer you?
I feel like I'm talking about a boyfriend who's gone to war, and only I know he's my boyfriend. And I look at pictures of him from time to time: He is my boyfriend and he will come back (ie. laughs).
I feel that you can explore into more detail certain realities than in theater. I like that the scenes are not shot chronologically and that it's like a puzzle. It feels like being in "Dexter's lab", which knows all its ins and outs and secret ways. It also involves a lot of math, but you can't see it. There are a lot of things you need to follow and remember, things that are imperceptible.
Then, you depend on a lot more people than in theater. There are a lot of people who step in your work and have as much power as you do over what you have done. I think that's very cool.