Alexandru Solomon: "I care very much about the relationship with the public"
Well-known documentary filmmaker Alexandru Solomon was one of the special guests at this year's edition of the Transilvania International Film Festival (June 17-26).
He was part of the jury of the newly created international documentary competition and one of the three filmmakers honored in the 3X3 section, which showcased his films "Tarzan's Testicles" (2017), "Cold Waves" (2007 ) and "Clara B" (2006), the latter being accompanied by his recent documentary shorts  "Three Conversations", "Recycled Travels", "Noli me tangere", "Made in Romania" and "Art + Porn-Nation".
I took this opportunity to invite Alexandru Solomon to a discussion for our monthly column of in-depth interviews with established filmmakers. We talked about his beginnings as a camera operator, his former position as artistic director of the One World Romania International Documentary & Human Rights Film Festival, and his interests as a documentary filmmaker, including the film he is working on now, about the legend around Arsenia Boca and the influence of religion in Romanian society.
Born on June 22, 1966, in Bucharest, Alexandru Solomon graduated in 1991 from the Institute of Theater and Film (IATC), the Cinematography department. He was a university trainer at IATC (1992-1995), then a teacher (1997-2001 and from 2011 to date) at the Bucharest National University of Arts, the Photo-Video department. Since 1994, he has been in the board of directors of the Visual Arts Foundation, created by director of photography Vivi Drăgan Vasile, and between 2011-2018, he was the president of the One World Romania Festival. He is currently the president of the One World Romania Association.
He worked as a director of photography on fiction films by directors such as Nicolae Mărgineanu ("Look Ahead with Anger", 1993), Andrei Blaier ("The Stone Cross", 1994), Sinişa Dragin ("Everyday God Kisses Us On The Mouth", 1999) and Titus Muntean ("Exam", 2003). His most recent films as a cinematographer are "Lebensdorf" (2021, dir. Valentin Hotea) and "Man and Dog" (2021, dir. Ştefan Constantinescu).
He has written and directed over fifteen documentaries, including "A Dog's Life" (1998), "The Man with a Thousand Eyes" (2001), "The Great Communist Bank Robbery" (2004), "Cold Waves" (2007), "Kapitalism: Our Improved Formula" (2010), "Romania: Four Countries" (2015) and "Tarzan's Testicles" (2017). In 2016, he published his monograph "Representations of Memory in Documentary Film".
You come from a family of two important and well-known intellectuals – writer and translator Petre Solomon and painter and art historian Yvonne Hasan. Your career probably should have been in the field of fine arts, especially since you went to an arts high school.
I went to the "Nicolae Tonitza" High School and I applied to the Fine Arts University. Fortunately, I didn't get in. Preparing for the admission exam was terrible. Then I joined the army. But I wouldn't say that I didn't follow in my parents' footsteps, because my mother was a great cinephile. She was the one to put a camera in my hand. She bought me a Super 8 when I was 14-15. We were both filming with it. I also got into photography. So I didn't take a completely different path.
You went to UNATC, the Cinematography section. You started before the Revolution and finished after.
I was in my third to fourth year when the Revolution happened. I was supposed to finish in the spring of 1990, but I stayed another year. You could do that then, choose the five-year night school program. It made that decision because the school was joined by new teachers, such as Florin Mihăilescu, Vivi Drăgan Vasile and Vlad Păunescu. I thought that I might have something to learn from them; unfortunately, the first three years were a complete and utter depression.
It was the end of communism.
That too, yes. But I must say that the previous teachers were not very good at their craft. Then, it was the general atmosphere.
How was it?
Grim. I can't even say we were affected by some terrible censorship. What was there to censor? We weren't making critical films, but rather metaphorical ones. Even so, they always found things to comment on. I don't remember the details, but I remember my teacher trying to get me and my colleagues into the Communist Party in December 1989. It was absurd. Right at the end of it.
How did you perceive the Revolution and everything that happened immediately after?
I was completely perplexed when the Revolution happened. I didn't understand anything. Immediately after, there was a student strike, in order not to let the old professors enter the university. They continued to come every month to cash their paychecks. The new teachers joined at the same time. I think they weren't paid for months, but we looked at them as Gods, because we knew their work, their films were very important then. That's why I decided to stay. I'm glad I did because that's how I started on this path. Thanks to Florin Mihăilescu, I worked as an assistant first on Mircea Daneliuc's The Toothless War (1992), then on Stere Gulea's The Fox Has Always Been The Hunter (1993).
How did you perceive those first years after the Revolution as a Cinematography student, in a world that had changed?
The world had changed, but in cinema, things hadn't changed that quickly. You had the same production houses, which were run by directors. Every director had their own production house. You had the same people working in production, still going by the old ways. In fact, the process continued to be about the same until the late '90s.
I was fortunate that Mr. Nicolae Mărgineanu called me and trusted me, even though I was only a year out of college and had only made two films as an assistant. I worked with him on Look Ahead with Anger (1993), an exceptional film for that era.
A film that is very anchored in its time, which you can watch now and understand quite a lot about the atmosphere then.
A vein that hasn't been perpetuated since, in my opinion. I don't know why Mr. Mărgineanu or the others didn't continue in this direction. This kind of social film, made in a real factory. We went to Brăila, we spent the entire winter and spring there, it was more than enough. The surrounding reality permeated the way the film was made.
Speaking of continuing in the old ways: at the time, we were still shooting on the same lousy film stock. You could barely render nighttime. It was a mess. I think we shot in '92. I remember working with Pompiliu Avram, a legendary focus puller, who was honored this year at the Gopo Awards. On the first night, he invited me to his room, we ate sausages. The drinks were on me. That was my initiation.
Do you remember the moment you made the decision to switch to documentary?
It wasn't something I decided.
Then how did it happen?
It happened over time. I was working as a videographer at the Plastic Artists Union. I was filming exhibitions. I liked what I was doing, and that's how I got into various studios. Geta Brătescu suggested that we make some experimental films together.At the same time, I started doing some experimental things with Radu Igazsag. I had worked with him at Animafilm, while I was in college. Given that I was going to night school classes, I was required to have a job. Then I made two films about the avant-garde, I think in '92 and '95, which were somewhat in the documentary area. It was a transition. It was something to do on the side because it took years to make a fiction film. And it was a world I was interested in.
It's only now that we're starting to make up for that past.
The Visual Arts Foundation turns 30 this year. We should do something.
What was it like there? FAV has been recently rediscovered in the history of Romanian cinema as a place that nurtured experimental video art.
True. First of all, video art wasn't that accessible in Romania. It was rather associated with two or three people who had a VHS camera and were filming weddings. Vivi (i.e. director of photography Vivi Drăgan Vasile, founder of FAV) had the idea to create a small independent studio for filming and editing, free for anyone who wanted to experiment with video art. How could anyone pass up this opportunity?
Video art must have been an interesting work environment at the time, which had been popular in the West for some time.
In Romania, but also in other countries, there was a gap in this sense. There were people who had made experimental films in Arad and Timişoara in the '70s and '80s or artists who were already exploring some type of video art. But I had no idea at the time. It was only later that I found out. There was nowhere you could see their works. The '90s were a blackout in which few threads connected with a recent past that you could build on. We always had to start from scratch. Cultural memory is short.
Of course, Geta Brătescu had made some experimental, studio films with Ion Grigorescu in the '70s and '80s. I saw those ones. But at that time they only existed on film. Marinela Preda-Sânc was also a fine art artist who worked on several films at FAV, I think until the 2000s. It was a place where you met all kinds of figures outside the film scene.
But Vivi was also greatly influenced by GDS (i.e. the Group for Social Dialogue), a video art studio where he was very involved. GDS was rather operating in the activist area, focusing on the events in University Square. At FAV there was a mix of the '90s activism, artists who came there to work on their projects and young apprentice, who were inspired by Vivi.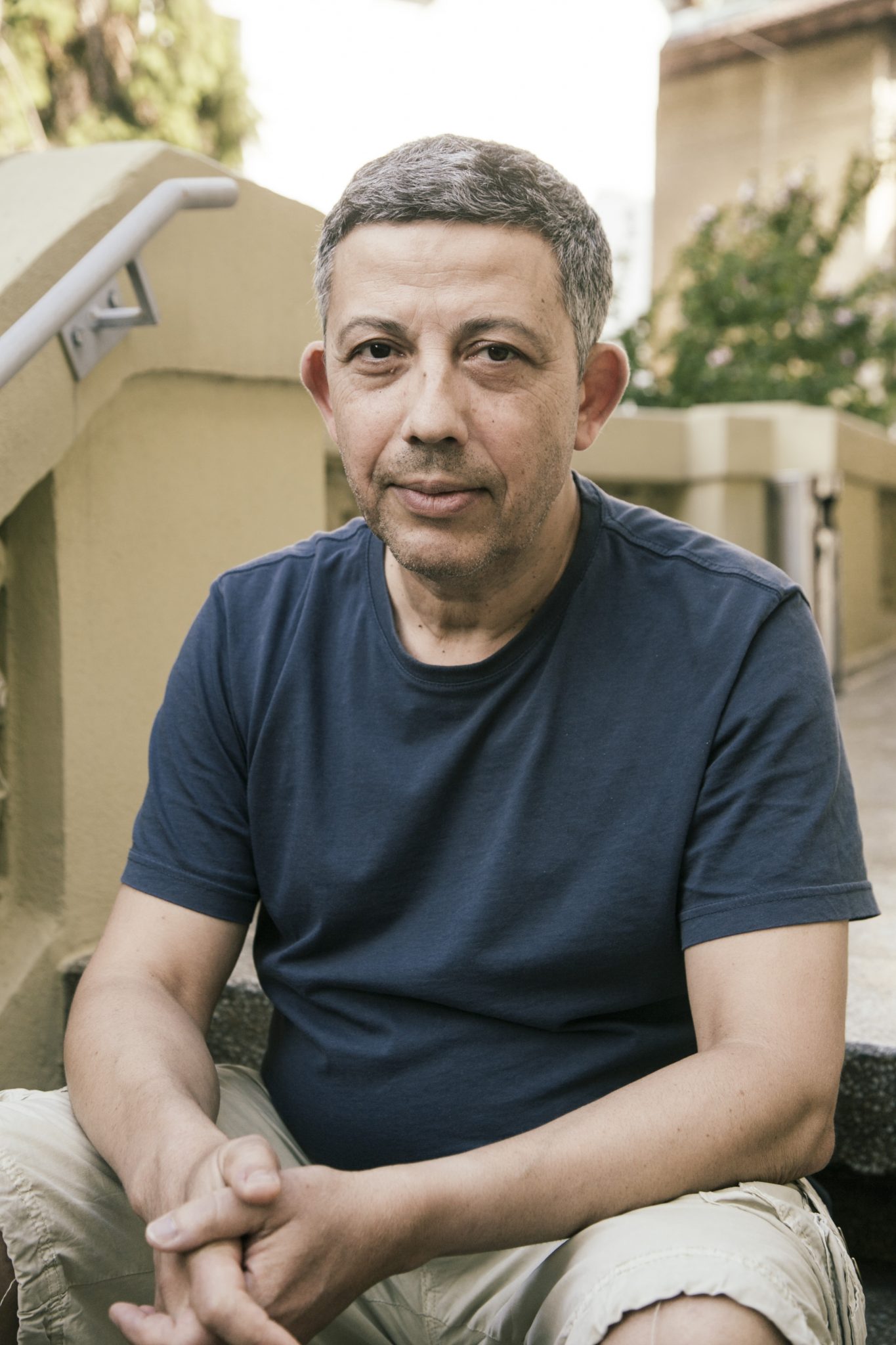 How did the environment there influence your documentary career? To what extent has it made you aware of the importance of looking around and documenting what is happening?
Initially, there was a barrier. The film school in Bucharest – which is where I also studied – unfortunately draws a curtain between students and the city in the first year. It really makes sure you can't peep through it (laughs). It's very hard to get out. It was hard for me, too. But there were colleagues who went to the protests in University Square, to the Mineriads. I didn't do that. I filmed some things, but very little compared to what I should have done. I didn't know how to deal with it. There must be an understanding of what you can do with such footage. How you absorb it and what you do with it further, apart from the fact that it's a piece of evidence. It was very hard to come to this understanding.
That seems to be the moment your interest in documentary filmmaking materialized. You started with films on topics that were close to you – your family history and the Bucharest around you.
These films are some sort of memento. My father died in 1991 and I wanted to make something about him and his experiences. I've always thought of the avant-garde as a treasure and, again, something that has been completely forgotten, discontinued, cut off at some point, without echoes.
The film is rather talking about literature, art, an already established language. Reality is not a language. It's a bazaar (laughs). Then, I think in '95-'96, I made a film about a keeper at a fortress somewhere in Transylvania, which came out quite bad if I look at it today. But it was an opportunity. Then, A Dog's Life (1998) was a step forward, a chance for me to go out on the street, but with a project, with a bit of perspective. And that's something that stuck with me.
What do you mean by that?
It means I don't like to go out and film right away. I need to understand, to digest what I want to capture. I work on creating a vision, even if it will be refined afterwards in the filming and editing process.
So you are not a fan of throwing yourself into a reality without fully knowing it, without knowing much about what will happen.
I started doing that now, after 30 years. I've recently started working on a film at the National Archives and I started filming like that, without any kind of pre-established vision.
But why did you use to approach your projects like that, with a very clear vision? Did you think it was safer?
It doesn't have to do with safety. It's a matter of understanding, of observation that settles in. A way of looking at things. Otherwise, I think it has no form.
Then how do you leave room for the unpredictable, the unknown?
You do. That's something you run into anyway, even if you set some guidelines. I feel like you have to set a framework, which is for communicating with those people but also for communicating with me in terms of form.
That means you set a concept, you think about what the film should look like, what the guidelines should be.
In a way, yes. I think it also depends on where I stand in that story. It may sound egocentric, but…
That's why your presence is very palpable in your films.
That's something I accepted rather late. It took me 15 years. I think Cold Waves (2007) is the first film in which I'm actually part of the story, and the story is told in the first person.
You also appear in front of the camera.
This too was a taboo picked up in film school. Or maybe it was my own limit. I can't always blame the school and the environment (laughs). Meaning the fact that you shouldn't appear in the shot and that you should always stay out of it in order to creatively process what you capture on the camera.
But that's what I feel, that the '90s are a black hole for all of us. We lost a very interesting era, but in which we were just as confused as everyone else. And that's normal, but we should have caught that.
The 2000s saw the beginning of your artistic maturity period. It was a different era than the '90s. Romania was moving closer to the EU, and there seemed to be a loss of interest in approaching the past. This seems to have overlapped with your concern for memory preservation and your desire to investigate recent history through film. You also explored this issue in a book, Representations of Memory in Documentary Film. How did you come to this approach in your films?
Gradually. There were several things that led me to this approach. I think the production process and the way you go about it is an aspect that greatly influences us, almost in a Marxist way. The Visual Arts Foundation worked very well in the 1990s because it was a completely free and independent alternative, but at the same time precarious and very poor in terms of exposure. I spent years at FAV focusing on the festivals' policy and handling the films' submissions at festivals. At one point, I felt we were hitting a wall. The films were seen at Astra Film Festival and that was about it. I think TVR started showing them only in the 2000s. We were creating things and nobody saw them. And the means were limited.
We realized that there is a world outside this circuit, which was actually very frustrating. And this world involved co-production and TV networks. In the early 2000s, public TV stations in Europe still had creative and intelligent programming. That's no longer the case. We were several people who went to training programs and workshops. I think in 2000 I applied to Documentary Campus, which was like science fiction for me. Florin Iepan, Răzvan Georgescu and others also attended the program afterwards.
It took a few years for me to connect to these European networks and, at the same time, to a way of telling the stories in such a manner that they could work outside Romania as well. It's a different thing to step out of our small community and tell a story that can also be understood in England or France. I think that's what shaped me. And the fact that I worked with foreign directors who came here to make documentaries and for whom I started doing research and interviews. It influenced me a lot.
Did it also influence you in choosing your own topics?
Not necessarily. I think I came up with the idea for The Great Communist Bank Robbery in 2000-2001, while being at that Discovery Campus. But maybe I felt there was a spectacular market potential, so to speak.
It's a film that has held up very well over the years. All the topics you explored in the films you made since then, beyond your personal relationship to them, which you portray directly, and their relevance to Romania's past, are quite spectacular and universal.
I care very much about the relationship with the public. I mean no elitism when it comes to that. If I do manifest it in any way, it's only due to my cultural formation. But otherwise, I think it's very important to be able to tell a story that can also be understood by people outside your circle.
But what does that mean when it comes to documentary? After all, you make auteur films.
It means being able to find the angles through which more people can identify with the story.
In parallel with this evolution, your involvement in One World Romania also showed a desire to bring documentaries from all over the world to the Romanian public.
The 2000s had this energy. My generation and the one that began working in the 2000s, I think we all had this illusion of making cinema accessible to the public. But One World Romania was not my initiative, it was the creation of the then director of the Czech Center, Monica Stepanova, I only joined her in this venture.
But it intersected with your area.
If you ask me now, post-factum, it was probably like an extension of what I was doing at the Visual Arts Foundation. But I didn't think of that then.
And adapted to the new times. The festival and your position as artistic director rounded off your documentary career.
Definitely.
As an artistic director, a position you stepped down from a few years ago, how did you manage to detach yourself from your tastes as a filmmaker and your definition of what a documentary film should look like?
I didn't have a problem with that. Maybe because I worked at FAV where I was around a variety of films. Then, I have a tolerant nature, aesthetically speaking. I accept any kind of formula. That's what's so fantastic about documentary film, the fact that there is all this diversity to work with.
Maybe it's even greater than in fiction.
Definitely. And since it doesn't involve the same risks, in terms of costs and reputation, filmmakers allow themselves to go for more diverse approaches. I think this diversity must be respected. I clearly wanted to implement a public-oriented policy at One World while I was directly involved in the film selection.
That is related to what you were saying about your films, that you want them to be more accessible and reach a wider audience.
Probably. The Romanian audience was quite unfamiliar with documentary film at the time. I knew that it had to be taken more slowly and that the harder things to digest, which test the viewer's patience, had to be introduced among more dynamic things. I was also thinking about relevance. What stories can we identify with? Certainly, I have always tried to have a representation of the Central and Eastern European world, which I think we have a lot in common with. But since all these countries were looking towards the West, I only came across Western, American films, even in the documentary sphere. I think people vibrate at these things and everything has an effect on the audience.
The post-2000 Romanian cinema went through a glorious period, with the emergence of the New Wave, extremely appreciated at festivals. But it was mostly about fiction films. There was much less talk about documentary film then than there has been in recent years, when this genre has developed and enjoyed in turn great international success, especially with Collective (2019, dir. Alexander Nanau). How did you feel about what was happening in the glory days of the New Cinema, when documentary film was in the shadow of fiction film?
I think there was stronger solidarity at that time. I remember endless meetings with fellow New Wave directors, meetings that were dedicated to the reform of cinema. I still have all these proposals for changes from 2005, 2006, 2007. Some have been made.
New Wave filmmakers were trying to gain minimal access to resources, which were still controlled by the old generation.
Formally speaking, there was a big discrepancy between what I was doing, so to speak, and what the New Wave was doing. At the same time, the New Wave had a very documentary approach. They even integrated it in a rather Jansenist, Protestant form. But the Romanian public didn't respond to it. We have to be honest. There is a serious cultural dissociation, which persists, between the public and Romanian film.
Where was the documentary standing in your discussions about reform? It seems like it was sidelined.
Indeed, perhaps it was. But we all had a filmmaker's mind and we knew what had to be done. There was a fight against the old structures in cinema, which we also joined, and the difference between documentary and fiction or any aesthetic genres mattered less. As for what the "fictionalists" were thinking about our films, I didn't really look into that (laughs).
After all, you were all of the same generation and you were interested in similar things, such as the recent past, which is reflected in many of the films of that period. At least from this point of view, there was a connection between the two sides.
Since you mentioned it, it's my impression that Collective could be thematically associated and perspective-wise with The Death of Mr. Lăzărescu, only at another level. It's a film that tries to be more public-oriented than The Death of Mr. Lăzărescu. That's why it got to the Oscars. I think we can talk about a delay where some patterns from fiction film break into documentary and vice-versa, but which didn't exist in Romania. The New Wave holds references to Nouvelle Vague, of course, but also to an observational documentary that hasn't been made in Romania until recently.
I think there has been a disregard for the observational documentary in Romania, based on aesthetic criteria. One can notice some observational specks in several films at Sahia, there are people who have worked a bit in this direction. But I only discovered that later, due to Adina Brădeanu's work (i.e. the recovery and presentation of the films at Sahia). Again, these are unbearable gaps. It's a big problem that we fail to build a source of heritage that can be perpetuated from generation to generation.
There are a few documentary authors who have a filmography (you, Andrei Ujică, Mona Nicoară, Alexander Nanau, Monica Lăzurean-Gorgan and others). At the same time, more and more young voices have emerged in recent years, and documentary film seems to evolve in various ways. How do you see this effervescence?
It's great that there is this diversity and that people manage to make these films and that they are seen. This is huge. But I think it's coming a bit late, amid a collapse of distribution networks and a big paradigm shift – the transition to streaming.
Then, I think we're finally breaking free of this lingering dogmatism. With all its artistic benefits, recognition and international prestige, absolutely commendable, I think the New Wave was also a dogma. And until recently, this dogma dominated Romanian cinema, including the documentary sphere. It seems that we've managed to step out a bit of this dogma, which is absolutely okay. Well, it's something that's happening internationally. It can also be seen in Transilvania IFF's new competition section – there are films that, 5-7 years ago, probably the guild, including the critics, would have rejected as not being documentaries. Therefore, I think there is an openness. Where this is going, we don't know yet.
How do you know that a topic is good enough to become a film and worthy of dedicating several years of your life?
You knok if you spend some years with it (laughs). There have been topics that I abandoned. You get involved in something you know superficially at first, but then it feeds you along the way. And if there's enough fuel there, you carry on. Otherwise, it falls apart at some point. Of course, it also comes to whether the film can be made, whether it can be financed. There were cases when I proposed topics and was told that they were not interesting enough or that they were too Romanian, too local. There is a barrier.
Do you still have difficulty financing your films?
Of course, I do. Nothing is guaranteed. I think it rarely happens to have guaranteed the next film on the grounds that you have succeeded with the previous one. And it needs to be said that, unfortunately, the Romanian system of financing film projects has managed in recent years to reach where it was in 2005.
In what sense?
In the sense that it came to a halt.
Are you strictly referring to documentary film?
No, I'm referring to a lot of things. It's very hard, almost as hard as then, for a young filmmaker to succeed with a new production company. That conditions young people who do not have a resume to go to already established companies, and so on. I'm making my fiction debut now with a short film. I was rejected the first time (i.e. at the CNC contest). I had zero points (i.e. as director). Which is fun. I deserve it (laughs). But it's much harder for a young filmmaker.
Although your documentaries address sensitive topics, you are not necessarily a challenging filmmaker. But now you are working on a documentary that announces to be challenging – about the legend around Arsenie Boca and the significance of religion in our society. Where does your interest in this area come from?
I'm not making a biographical film about Arsenie Boca, although I think his personality is extremely contradictory and, in a way, fascinating. That's one of the reasons I was drawn to the subject. He is not a dogmatic character, but a very bizarre one, around whom a legend was created. My film is about this legend and how it helps people survive the times we are going through. I have been on pilgrimages for three years with various groups. At first, I tried to make an observational documentary, if I can call it that. The research was filmed from the beginning. But at one point I realized that this was an obstacle and that I couldn't get into the essence of the phenomenon, because the pilgrimages were too short. They helped me understand this world, communicate with these people and to see the places. Meanwhile, the Arsenie Boca phenomenon has faded, in a way, and I think that's interesting. I finally set a framework, which I myself challenged. But I'm pretty superstitious to talk about it. Proof that I have a mystical side (laughs).
In October 2017, you protested at the Romanian Patriarchate, in an artistic manner (you cut your palms and gave out money), against the visit of Russian Patriarch Kiril to Bucharest. Does your act have anything to do with your upcoming documentary?
It wasn't premeditated in relation to this film. I started filming after the protest. But I'm concerned about the immeasurable power of the Church in Romanian social and political life. A power publicly accepted and, of course, encouraged, speculated by the authorities. And it's very curious how the centralized structure of the Romanian state was replaced with a parallel structure. The film is about this cult and what it says about our society.
It's a film that has the potential to spark controversy and discussions.
I don't know. It was very difficult for me to position myself. That's why I did this exercise for three years. To position myself as a man who doesn't go to church and is Jewish. I think I have a very strong rationalist view that I can't get over.
Were you afraid?
I wasn't afraid, but I think people need to know that, accept me for who I am, and have a dialogue as such. Therefore, it was a complicated process, which I didn't know would last that long. The cult of Arsenia Boca is like a foreign country to me. I didn't want to make something superficial, like the images circulating on Facebook with the old women who fall to their knees and kiss relics.