CVideo. Delphine et Carole, insoumuses
The history of cinema will never accommodate Carole Roussopoulos. She was a pioneer in too many respects, too much excess is always frowned upon – there's space for only so many pages, books and conferences, right? Who asked her to be that productive? Things are a bit different in regards to Delphine Seyrig, however. She is the face of an entire era of arthouse cinema – the '60s, '70s and '80s; she was Jeanne Dielman and Anne-Marie Stretter, one of Buñuel's bourgeois, the protagonist of Marienbad. And a notoriously fierce feminist, but just how fierce was she?
Fierce enough to pick up on the subversive potential of video cameras, which had just landed on the French market at the beginning of the '70s. Things were happening, and Seyrig did not want to miss out on them. Carole Roussopoulos was teaching video classes for women. Her hitherto documentaries had primed her as the guardian angel of the Parisian progressive movements. She stood next to Jean Genet when he declared his support for Angela Davis and the Black Panthers. She captured the conferences and protests of the Front homosexuel d'action révolutionnaire group. Then, together with Seyrig and Ioana Wieder, her former pupils, she founded the Les Insoumuses collective, where protests and video art went hand-in-hand, as the filmmakers doted on the almost instantaneous speed of the medium. They would make the cuts right on the tape inside the camera, and cheap videocassettes gave them the time and space that were necessary for experimentation.
It's clear that the canonic reassessments of the past few years have loudly stated that cinema doesn't need more heroes, but rather, it needs heroines. Justly so. Maybe this time we're able to see things better and to understand more. It's a second chance. And Callisto McNulty, Carole Roussopoulos' granddaughter, is one to resonate with such a mission. Her grandmother died before she could get the chance to finish a documentary about her "compañera" Seyrig, so McNulty took her heritage into her own hands, with the difference that the film would no longer be just about Seyrig, but about Roussopoulos and Seyrig. This is the genesis of Delphine et Carole, insoumuses (2019), McNulty's feature debut, which is a long-awaited history lesson.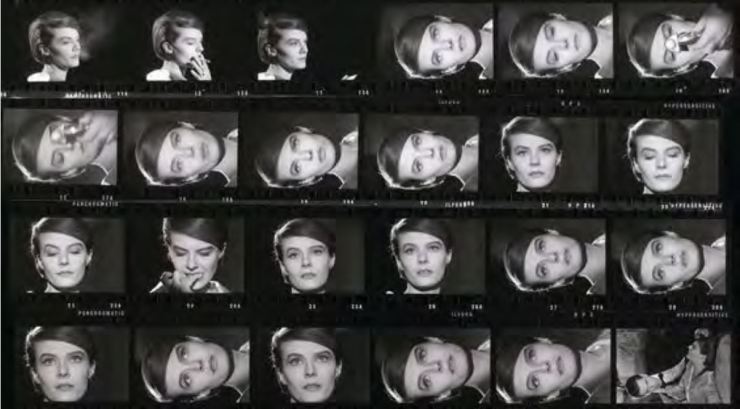 However, the problem with lessons of history in cinema is that such films regularly confine themselves to pedagogy, up to the point that they lose their nerve. There are countless such endeavors. From a strategic point of view, it's always useful to use the common language of the current traditions. A recent interview, then an archival one, followed by some materials that serve the purpose of illustration; an unbeatable recipe. Especially when, just as Callisto McNulty, you have an elaborate plan of ideas at your disposal. The documentarian's selection, which combines contemporary television interviews, fragments from the collective's films, Seyrig's grand roles and two more recent interviews with Roussopoulous, goes straight to the point in its aim to present the intelligence and creativity that the two filmmakers used in order to conceive their activism through the means of provocative art. Their milieu was populated by icons of feminism, such as Jane Fonda, Simone de Beauvoir, Marguerite Duras, and Chantal Akerman, while on their TV screens and in public life, a ferocious brand of misogyny was on display, orchestrated by intellectuals – amongst them journalist Françoise Giroud, who at the time was the Minister for Women's Rights. We learn our lesson, we tick off our checklists, from their preference for video up to the intellectual vivaciousness that was surrounding them. There's no lack of memorable quotes; on the contrary, their omnipresence is eerie.
At no point in the film is the kinship between McNulty and Roussopoulos revealed. It's an all-the-more disappointing fact, since it gives the impression that McNulty's approach is sterile; intellectually, emotionally, as well as formally. Its instructive mission is worthy of our entire appreciation. And it's visible that the best intentions were in mind throughout. But everything ensues so smoothly in the film that the spectaculous Seyrig and Roussopoulos seem to be giving job interviews while clutching their CVs. Of course, the film was created after both had passed away (Seyrig in 1990, Roussopoulos in 2009) and it was natural that the tone would, then, be a reverential one. And rightly so. But McNulty seems to miss so many marks in her attempt at being self-effacing. Why just Roussopoulos the filmmaker, Roussopoulos the activist, and not Roussopoulos the grandmother? Is feminism just a career? Even so, Seyrig's professional resume had much more potential than the film sequences used here may reveal. Her role in Pull My Daily (dir. Robert Frank, Alfred Leslie, 1959), for example, the famous experimental documentary that paid tribute to the beat boys; Seyrig here has the role of a frivolous and petit-bourgeois housewife that is obviously also a little bit hysterical. How does she retrospectively see her cinematic debut? How does McNulty see it? In a similar fashion, how does she see the actress' collaboration with Márta Mészáros (Útközben, 1979), who is also a feminist filmmaker, but this time around, an Eastern one hailing from socialist Hungary. Didn't the S.C.U.M. Manifesto 1967 (1976) video, in which she recites parts of Valerie Solanas' text, raise any sort of questions? Since, after all, by that point, Solanas was much more than just a simple activist, she was the one who shot Andy Warhol. For better or for worse, it's the kind of situation that requires reflection, and that's just one of the many corners that McNulty cuts. And she cuts them for no good reason, too, because there is nothing in these stories that detract from the two, but rather the opposite: it makes them even more vastly complex.
The film had its national premiere at the French Film Festival, on the 24th of September, 2020. 
Călin Boto