KVIFF 2022 – Back to OZ, and so on, and so forth
I click my heels and I'm back home. Not in Kansas, but in Karlovy Vary. What is it about this place that makes me feel at home? Is it the brutalist, ex-socialist atmosphere of the iconic Thermal Hotel, the center point of KVIFF, which reminds me of my part of Europe? Is it the town itself – small, picturesque, yet stylish and friendly? The atmosphere is always very welcoming in Karlovy Vary, to everyone, no matter if it's the press, the industry, or the audience, black ties or trekkers bearing ski sticks and backpacks, freshly off their hikes. The more the spotlights and red carpets feature stars and the pressure of prestige – this year, the biggest international guests were Geoffrey Rush and Benicio del Toro –, the more you can't feel any sort of segregation in the halls of the Thermal. There's even a sort of solidarity in the air, especially when you end up queueing for dozens of minutes together with other people who still harbor the hope of catching a seat at a sold-out screening – as for me, I ended up feeling this solidarity thrice, especially when I unsuccessfully tried to catch Aftersun (r. Charlotte Wells), this apparently accidental popularity hit of the edition, and one of the films I would have liked most to see. This welcoming spirit also extends to the festival's film selection, in the sense that there's a little bit of something for anybody: some jewels from the history of cinema for the cinephiles, some midnight screenings for the horror film aficionados, and some irreverent films, debuts brimming with verve, some experimental things here and there; and amongst all of them, big-audience films also manage to sneak in.
My references to The Wizard of Oz are not just the result of my personal attachment to the festival. Given that, earlier this year, there was a big hype surrounding David Lynch and people speculated that he might have a new project out, the selection of Karlovy Vary shed new light on his delectable Wild at Heart (1990), together with The Wizard of Oz (1939, dir. Victor Fleming) in the Out of the Past section, thus welcoming the release of Alexandre O. Philippe's latest documentary, one with a telling title – Lynch/Oz. Much rather a work of videographic essayism, Philippe's film starts from the reading in which Fleming's classic was an essential influence on the filmography of Lynch, beyond Wild at Heart (red shoes, parallel worlds, and could it be that the mysterious entity named "Judy" in Twin Peaks is a reference to Judy Garland?), and collects a series of passionate analyses, on the part of five other filmmakers, amongst which we find John Waters, David Lowery, and Karyn Kusama. The documentary is a celebration of the fun, yet simultaneously profound and idiosyncratic spirit of Lynch and, to the same degree, an exaltation of pop culture, of how The Wizard of Oz left its mark on everyone's childhood and, ultimately, how it might have taught us the so-called "magic" of cinema. Maybe some won't be fully convinced by the thesis that Lynch/Oz lays out (even though the arguments are valid, and even Lynch himself acquiesces to them), but what's for sure is that Wild at Heart +  The Wizard of Oz, two films at the opposite sides of the same spectrum of innocence, are a fantasy double bill, even if KVIFF didn't screen them one after the other.
This year, the entirety of Out of the Past seems to be organized between cinephilia, pop culture, and cult films, gathering everything from Cassavetes' Opening Night-ul (1970) to Back to the Future (1985, dir. Robert Zemeckis) – as I said, a little something for everyone. The cult area is of course fuelled by the festival's traditional midnight screenings, of which I'll mention Everything Everywhere All at Once (great) by Daniel Kwan and Daniel Scheinert, or Men (awful) by Alex Garland, at least as a way to underline the leverage and market power that A24 has achieved in past years. The tendency is a general one, I think, in the sense that recently, there's been less interest and need in categorically delimitating cult films from prestige titles – just like, for example, this year's outing of Cannes used its poster to honor The Truman Show (1998, dir. Peter Weir) and just like Top Gun: Maverick had its greatest moment at the festival.
In the Horizons section, the festival also collected some of the crème de la crème from Cannes (Godland, Triangle of Sadness, Close, Corsage, and others) and a more heterogeneous collection of notable films, along with a couple of hidden gems from Berlin (Une été comme ça, Les passagers de la nuit, A Love Story, etc.). Aside from a few exceptions and films that I had already seen in other festivals, I decided to stay away from the section, assuming that I would have enough time to recover most of the productions when they will end up in Romania, whether distributed or not. I'd make a short stop to comment on the (new) Crimes of the Future by Cronenberg in order to vent, because its dystopic story about a couple of conceptual artists that experiment with pain seems to me like an expanded and tiresome apology of the idea that art must be connected to suffering. It would be ridiculous to complain about the nudity (it's a Cronenberg, after all), but I went to the screening after having seen a documentary that grappled with the male gaze (Brainwashed: Sex-Camera-Power), so this, in particular, reminded me to watch the film with a set of eyes that is disgusted at how many women that are naked for no reasonable motive cinema still insist on exploiting onscreen.
And so, with a bitter aftertaste towards the prestige of this great contemporary auteur, I was pleasantly surprised by Park Chan-wook's Decision to Leave, a slightly glossy genre film, while, at the same time, a formidable exercise in mise-en-scène and virtuosity. Even if the plot, of a detective falling in love with the female criminal that he is investigating, is already quite common, I'd dare say that even Hitchcock would be a bit jealous of the genius and precision that Park displays when he represents that detective's and the investigation's thought processes. The closeness of a love that cannot be consummated is edited in an almost choreographic way, through exchanges of glances, focus shifts, and cuts – a weak script, but a visual treat, not inasmuch of the cinematography, but of the cinematic language in itself. The way Park jumps from a subjective shot to an objective one through diary entries (voice entries on an electronic watch) and text messages proves just how much the director is capable of connecting the resources of cinema to the modern technology that dominates the world. Pleasant surprises also came in from the Imagina section, where I enjoyed a very inspired triptych of shorts, two by Tsai Ming-liang (The Night and The Moon and the Tree) and one by Apichatpong Weerasethakul (Night Colonies) – a stylistic composition that, at a mental level, has probably already been made by most of us, but that was all the more satisfying to see in practice. Without rambling about meditation and transcendentalism, I must say that the three film's slow cinema offered a beautiful break for reflection, a small respite for healing – if I were to paraphrase what the characters of Tsai Ming-liang are up to in his latest films.
What I chose to focus on instead at this year's edition of Karlovy Vary was the competition for the Crystal Globe, in the hope that it might offer a bit of fresh air and, especially, some local productions. The competition was pretty tame, however, even if impressive in variety: from sci-fi (Vesper, dir. Kristina Buožytė, Bruno Samper), to documentary (A Provincial Hospital, dir. Ilian Metev, Ivan Chertov, Zlatina Tenev), to satires/homages of the cinema industry (dir. The Ordinaries, Sophie Linnenbaum). Many promising things, a lot of craft, but little spark, few films that would propose a more transgressive language or that would escape the bounds of conventional storytelling. From what I've heard, the festival's other flagship competition, Proxima, was much better in terms of experiment and quality. In the following, I'll briefly go over the competition's most notable titles, maybe even small masterpieces – aside from the winner, which I've already written about here.
Although less cynical in tone, it's hard not to compare Silence 6-9 (Christos Passalis) with Yorgos Lanthimos, not that Greek cinema would lack other headliners, but also because it features Angeliki Papoulia and Passalis himself, both of whom are Lanthimos collaborators (see Dogtooth) in the main roles. The comparison also stems from the slow and sterile style of the film, set in an absurd, dystopic reality, where two innocent souls find one another in order to face an indescribable horror. The small village that keeps a curfew of silence, from which people have suddenly disappeared, has a familiar, pandemic-era air to it, but otherwise, the film asks for a lot of patience on the part of its spectators in terms of rhythm and topic. The film's conceptualism is, at times, tendentious and tedious, despite being enticing in as a series of notes on life, death, and parallel worlds. Silence 6-9 is a respectable wildcard, maybe even the most ambitious film of the competition in terms of unconventionality and "mature" style, but all of that pales under the weight of the many other films that preoccupy themselves with the absurd.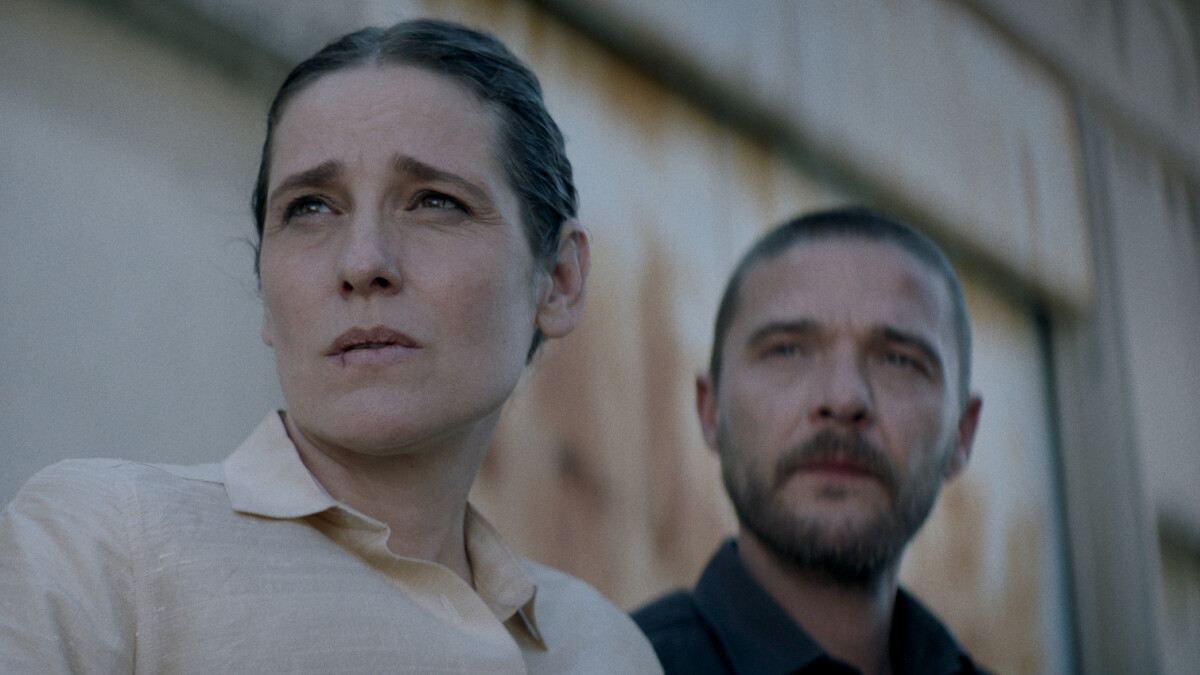 Winner of the FIPRESCI award, Borders Of Love (dir. Tomasz Wiński) also has the misfortune of looking like a whole bunch of other films about couples that are experimenting with the possibility of having several sexual partners outside their main relationship – a subject that can hardly be presented as transgressive anymore. I'll have the goodwill to call it a misfortune instead of hinting at emulations, even considering that the film is strikingly similar to the new version of Scenes from a Marriage, even if only for the simple physical resemblance of the female characters in the two productions. Even so, the couple in Borders Of Love is sympathetic and easy to empathize with, and so you get easily drawn into their mix of drama, insecurity, and love. The male character is still the more charismatic of the two (a nuanced, attractive prototype of a young, modern man), which ultimately makes the film tip the scales in his favor. As much as we understand his disappointments and deflated fantasies, the more it's a shame that the female character is once more the wicked one (like in the new Scenes…), which is seemingly just waiting for the chance to cheat "with permission".Speaking of couples in crisis, there's also the appetizingly-titled Fucking Bornholm (dir. Anna Kazejak), which seems to want to recall a feminine perspective (maybe feminist?) in front of the exasperating pretension that mothers should take care of everyone. A drama disguised as a comedy (certainly the film that garnered the most laughs in the competition) with a simple premise: of course, faraway family vacations will at one point drive you crazy. Kids are kids, men are just bigger kids – this state of affairs in the main character's life leads her towards small adventures on her road to self-discovery, without the director's perspective demonizing her for this. All in all, the film is rather predictable, and I've seen it before under various other iterations, but it's a sweet watch, as it navigates midlife crisis both with satisfying moments of screaming, where old, funny resentments are poured out and with sweet moments of family love.
At the edge of the sea, we also have A Far Shore (r. Masaaki Kudo), the first Japanese production to compete at Karlovy Vary in many years, a discreet, yet efficient film in its political character. These are not the famous, Tokyo-centric lands of Japan, but rather, the island of Okinawa, a lesser-known space to (western) audiences and which, in Kudo's vision, is less touched up than in the regular images of the island, that picture it as a touristic heaven. There are many sociopolitical commentaries on the status of the island working in the background, such as ones on the almost-extinct culture of its natives, poverty, exploitative mechanisms of nightclubs, on a youth that is ostracized and desperate. It's hard not to feel a knot in your stomach after seeing A Far Shore – the lightheartedness that traverses the film is sidelined by a profound sense of hopelessness, which swallows the characters whole. A film without a happy ending is a courageous gesture on the part of the director, and the soulful performance of the lead actress as a 17-year-old mother, abused by her boyfriend and forced to practice prostitution to support herself, brought many to tears in the cinema, and that's not because the film melodramatically tricks you into crying, but because Kudo archives his representation of the situation tactfully and with a lot of veracity.
I kept my personal winner for last (which only won the Special Jury Award), which is also, coincidentally, the last film that I saw this year in Karlovy Vary. Shot on a resplendent film stock, You Have To Come and See It (dir. Jonás Trueba) is nothing else but the perfect bait for critics and cinephiles. It's a film with small aims – two couples that talk a lot and who have intellectual debates about their own lives, or on the benefits of living in the city versus the province, with a lot of Rohmerian essence throughout, and almost a direct homage to Quatre aventures de Reinette et Mirabelle (1987). For a feature of just a few minutes over an hour, the film is not busy, but breathes in fully, with its particular naturalness of the dialogue… and existence. Although the two couples face the various small anxieties of thirty-year-olds, meaning decisions, futures, and possible children, the film is pierced by an atmosphere that is warm, bright, guided by the poetic potential of relationship inertia and by the familiarity of day-to-day things. Just like You Have To Come and See It starts with a hypnotizing piano song, the film's tempered cadence submerges spectators in a trance. The cinephile bait also comes out of the reflections on art and life that Trueba proposes, and if one is not paying attention, the film might catch you off-guard with an exercise in meta-cinema. How is it that certain works of art seem so much more alive than we are, the four characters ask themselves, in a detached tone – and that's the bittersweet truth with which I left Karlovy Vary and returned to my little black-and-white Kansas, Bucharest.