Five sides of Frances McDormand
She once said that in her old age she would like to retire to a caravan, away from the madding crowd, where she could live like a civilian. Shortly afterwards, she starred in Nomadland, where she had the chance to partially live this thought. She is the actress who lost her Oscar a few years ago at the after-party, when a man slipped the statuette under his suit and presumably ran away with it. She is the partner of director Joel Coen (half of the Coen Brothers), who often casts her in his movies. You wouldn't go so far as to call her a muse, maybe a subversive one; all the movies she stars in, there's something mannish and gutsy in her pace and speech, which is why she often appears in movies with deadpan humor (even the HBO miniseries Olive Kitteridge, about dysfunctional families and mental illness, has a hint of Fargo/Twin Peaks, in that the protagonist, played by McDormand, is a snappy mother/wife/teacher who takes it out on whomever comes her way, but is unequivocally adorable while doing so). She collaborates on a regular basis with certain authors (be it Coen, Lisa Cholodenko, or Wes Anderson), as well as certain actors with whom she co-stars on many occasions (Olive Kitteridge's husband is also her former boss in Burn After Reading; Bill Murray appears in Olive Kitteridge, as well as in Moonrise Kingdom).
I'm going through a period when I need to grow out of my love for Frances McDormand; after winning her third Oscar for her role in Nomadland, thus reaching the "Meryl Streep" Olympic league (which means that the four-Oscar record held by Katharine Hepburn can be beaten anytime), I went through all her films in an effort to understand how she builds her characters. At a first glance, I was struck by how she managed to stand out even when playing supporting roles. In Almost Famous, for example, she's the annoying, conservative mother who has to accept that her 15-year-old son ran off with a rock band; she is overwhelmed by the thought that everyone is taking LSD and driving around under the influence, which was not entirely a misconception, except in the eyes of her kid, a paragon of good behaviour. In Mississippi Burning, her character is a front for all sorts of male egos. McDormand mostly played either distressed ladies or tough, solitary characters who tried to move mountains. In recent years, it's pretty obvious that she is leaning towards the latter, which is not a bad thing: in Three Billboards Outside Ebbing, Missouri, she even has a men's uniform which she wears in her hunt for injustices.
Miss Pettigrew Lives For a Day (dir. Bharat Nalluni, 2008)
I kick off with a rara avis, precisely because it's her least McDormand-like role. Here, Pettigrew is a homeless woman, sleeping in London train stations and starving, who ends up in a rather fancy situation: a local vamp, naive and overrun with attention, needs some sort of representative/secretary who can keep insistent men at a distance. Pettigrew has no experience or knack for this kind of stuff, she is just vulnerable, ruffled and homeless. Anyway, all this "feeling lost, wandering without purpose" drama is treated in a comical way: the fact that Pettigrew has a posh vocabulary makes her easy to camouflage among high-class people, but impossible to forget thanks to her shabby clothes. Here, as pretty much everywhere else, McDormand plays the outsider who pulls all sorts of strings in order to help everybody succeed in their love affairs, while she herself keeps a low profile. She basically has only two weapons – a minor life experience and a keen sense of observation. As it happens in every film as such, McDormand gets a make-over in the first quarter of the film, meant to transform her from "the ugly Betty" into a stunning lady; but here's the catch, in the end she doesn't undergo a grand transfiguration, but only gets a discreet contouring.
Burn After Reading (dir. Ethan & Joel Coen, 2008)
Burn After Reading may very well be just a minor title in the Coen Brothers' portfolio, but McDormand shines here: Linda is an over-the-top character filled with verbal tics and speech impediment, a gym employee who tries to raise money for four cosmetic surgeries. There's something meta in the way McDormand is cast in all sorts of situations where she has to change her appearance, which can only be a glimpse into how hard Hollywood seems to accept a female appearance that's different from the norms: Linda is not spiritual, but she's resourceful, so once a former CIA agent (played by Malkovich, who rather finds himself in an existential crisis) loses his memoir somewhere among the gym equipment, she immediately sees an opportunity for a cash reward. Another dimwit who supports her is Chad (Brad Pitt), in an unlikely duo if it wasn't some sort of "Fargo in the CIA", out of which he doesn't get anything other than the novice's enthusiasm to wander around from one embassy to another in search of political intrigue.
Fargo (dir. Ethan & Joel Coen, 1996)
Marge Gunderson is the opposite of Linda – Marge is the chief of police in Brainerd, Minnesota, where, as in any Coen movie, a lot of unhappy coincidences happen (a policeman stops the very car that has both the kidnappers and the victim, a family passes by the scene in question, and they will all perish for the sole reason that they happened to be there). It's clear that Marge is a brilliant police chief, who also happens to be pregnant, in a world full of male dumbos: the villains ultimately come as subjects of mockery (the chatty vs. the silent brute, the mind behind the kidnapping is the victim's husband himself, who resorts to all sorts of petty thefts and intends to extort money from his father-in-law, hence the ransom). There is something very candid about this black comedy in the way that Marge takes everything coming her way lightly and calmly – for example, she gets nausea due to her pregnancy, and not at the sight of the corpses lying in the snow, which she studies with attention, so that she can later provide the whole crime scenario with mathematical precision. If in Burn After Reading the character stands out for her naivety, here is the complete opposite – McDormand plays the only lucid mind capable of elucidating mysteries.
Olive Kitteridge (dir. Lisa Cholodenko, 2014)
In this miniseries, McDormand plays a hateful shrew – and, unlike other films that keep insisting on their soupy stuff, Cholodenko focuses on deconstructing the motives behind Olive's porous nature. She is not happy in her marriage, she dreams of a parallel life with another teacher, she has a boy who is neither smart nor diligent, her husband flirts with a younger girl, whom Olive calls "the mouse". Last but not least, she can't stand people, although she would never leave someone in lurch. The reason the series is so good is probably thanks to the relationship between McDormand and Richard Jenkins, playing the husband, seen both in key and totally mundane moments over 25 years of marriage. For example, in the best episode of the series, after their son's wedding, Olive forces her husband to stop on the way to the hospital, because she has to use the toilet. Once they get there, she is however sent to a consult, and during the consultation, the hospital gets robbed, and everyone ends up in the basement of the clinic, to Olive's horror – here's another occasion to be in the same place with other people.
Three Billboards Outside Ebbing, Missouri (dir. Martin McDonagh, 2017)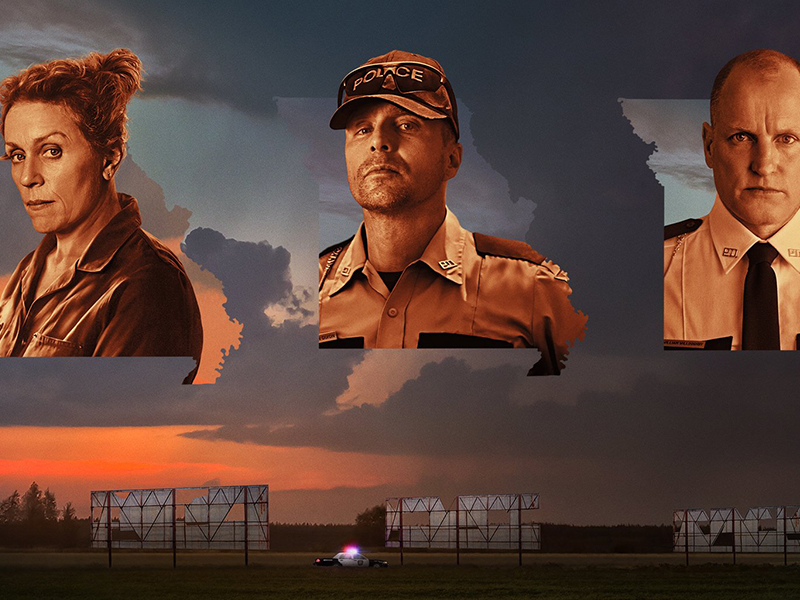 Mildred (Frances McDormand) is a female Rambo-looking defense (she even wears a coverall jumpsuit and a bandana), a vigilante who takes justice into her own hands after the police seemed to go nowhere with the investigation in the seven months that have passed since her daughter's death. In such a small town, the billboards are an institution where anyone can go rent them out and post their ads – Mildred rents three abandoned billboards near her home, where almost no one drives by, where her daughter was raped and burned alive. If in the aforementioned film the reasons for the characters' grumpy attitude could be argued, here McDormand plays a woman who dedicates herself to this sole purpose – and, if it has nothing to do with that, then it's the effort of humiliating the racist/donut-eating cops who are incompetent in doing their job. Mildred is empowered, meaning that she's unwavering, but she lacks the power to actually do something for her daughter – her vendetta that is upsetting for the men around her seems useless (why set fire to the police station, then?) – but it's a last resort for all those who have lost everything and refuse to move on. In that sense, I feel that McDormand takes on roles that seem to have a continuity, albeit symbolic – for example, Mildred could have easily made the decision to leave with the caravan from Nomadland, venturing in a self-healing journey.