"So many people are fighting for one of Gulea's wild ideas."On the set of Moromeții 3
The shooting for Moromeții 3, the latest film by director Stere Gulea, has wrapped up this month. We visited the set of the film to understand why there was a need to shoot a third part to the series, 36 years after the first Moromeții, and to see what compromises must be made when a film is under-financed.
Even opening a door can be a problem when a film is made. How one knocks on the door, how it's opened, in what direction you enter, where you're looking – all of this matters and will be subjected to minute analysis, until everything comes together the way it's supposed to. This is what I find out on the set of  Moromeții 3. A scene in which Nicolae (Alex Călin) and Ilie Moromete (Horațiu Mălăele) are going to get their picture taken at a photo store is being shot. 
It's day 25 of shooting, and it's a hard one: two set changes must be made. We are at the "Little Paris" Museum, a small one, nestled in an apartment in the historic center of Bucharest. The rooms are full of decorative objects and clothes that call to mind the first half of the 20th century. This is where we find the photo cabinet of Eugen Ciocan, the only one in Europe where photos are still going through the process of manual colorization. It's the perfect spot for this scene in the third part of the Moromeții trilogy.
In a different room, Stere Gulea, wrapped in a wool sweater and wearing a winter hat, leans back in his director's armchair and watches the monitor. To his right sits Alexandra Botău, the script supervisor. The young, red-haired woman holds the script in her arms, pen in hand, throughout the entire shooting. She and Gulea are almost inseparable. They communicate a lot, especially since the current version of the script has been through several rewrites. Always open to collaborating with those around him, Gulea sometimes amends a line during shooting.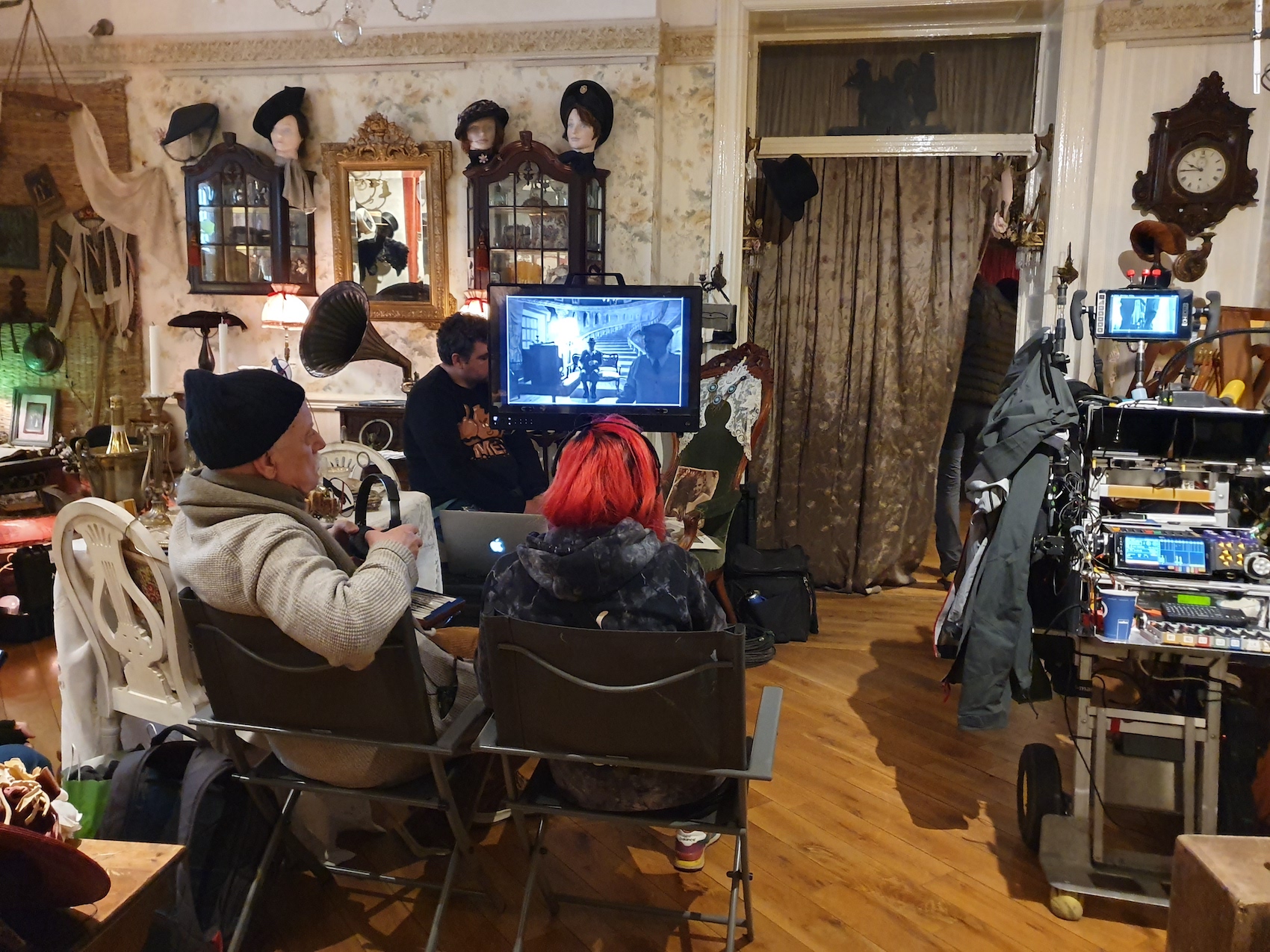 Behind them, stuck to the walls or sitting in the door of a third chamber, several people from the crew (and me) are crowded together, trying to catch a glimpse of the monitor, and attempting to avoid the frame or being reflected in a mirror while going out.
During rehearsals, Stere Gulea is rather silent, and observational. When he speaks, he does so slowly, with kindness. Almost anemic, sometimes. Louder and more firm, Adriana Răcășan, the film's AD, passes Gulea's indications to the actors and the crew. She remains standing, because she often crosses the line between the backstage and the two principal rooms, whenever she feels like her walkie-talkie isn't good enough to transmit whatever she has to clarify.
For example, she tells Alex Călin to leave a pause between his two knocks on the door, after Stere notices that they're too close, almost as if he were only knocking once. She is also the one to call the team to be silent every time the shot is reprised. The bustle of dozens of people suddenly comes to a stop, until the only thing that you can hear from anyone who is not on stage is their breaths or a crack of a knuckle. Nobody moves. Then Stere quietly calls for a "cut", which Adriana then amplifies.
The bustle reprises, along with renegotiations – regarding especially time, and space. Space, because, in the words of one of the team members: "we are stumbling all over each other again". It's hard to avoid this while working on an interior scene, between the walls of an apartment. Time, because every minute of delay is costly, and every single penny is a problem when, on day 25 of shooting, the production is not yet fully financed.
Why do we need Moromeții 3 in 2023?
In contrast to the two first parts in the trilogy, which adapted Romanian novelist Marin Preda's eponymous books, Moromeții 3 is based on an entirely original script, penned by Stere Gulea. The main character is Nicolae Moromete, but his trajectory is actually inspired by the life and diaries of the writer.
The new Nicolae is a young, lauded writer who lives his life and complicated love affairs (with characters inspired by Nina Cassian and Aurora Cornu) in an atmosphere that is steeped in the ideological rules of the Romanian Communist Party in the fifties. He must decide whether to become a part of the system and be repaired for this or, if not, to risk his freedom.
"In a way, this is the story of Marin Preda himself, as he was writing the books," Gulea explains. He has read everything that one can read about the writer – letters, diaries, testimonies – and has had an enduring, decades-long fascination with his figure.
The director was working on his previous film's post-production when he realized that he wanted to make another one. He started from his fascination with Preda and his "human turmoil". "Despite all appearances, he was very vulnerable. He was anxious, agitated, malcontent – I thought this was a side to him that people had no way of knowing."
His collaborators see the film's aims differently. "The story seemed to be unfinished, from the perspective of Nicolae," Adriana believes. "Stere felt a need. After he saw how successful the second film was, he probably thought that he could go further, to transfer the story from Nicolae Moromete to writer Marin Preda", says cinematographer Vivi Drăgan Vasile.
The success that Vivi Drăgan speaks about translated into a number of ten Gopo Awards and almost 200,000 tickets sold during the release of Moromeții 2, 30 years after the series' first installment, which turned it into the most-watched Romanian film in 2018.
Alex Călin, who, according to the director, appears in "every single frame" of the new film, says that Gulea himself asked his actors the very same question – what do they believe the film's aim is – after the first month of rehearsals. "I think it's an occasion for us to be less judgemental about some people who lived in times that we didn't experience. To understand a bit more about the pressures they faced, the advantages and disadvantages they had within the Communist Party, what they had to give up, from within themselves and their dream to become a writer. And what it means to say stop at one point," Călin replied.
I asked the actor to which degree Preda's story is still relevant in today's world. "The issues regarding one's conscience as an artists are an important topic, no matter the times you're living in. They faced the censorship of the communist regim, but nowadays, the context is a bit more perverse, because there is not one thing that you can point out. You have social media, this pressure of making festival movies, all sorts of things that can stray an artist from whatever issue truly preoccupies them, if it makes them believe that it will help them achieve a certain kind of success."
"A tight-rope dance with compromise, with power"
From the perspective of producer Tudor Giurgiu, Moromeții 3 is a "document" about a part of history that has deeply affected society. "I think there's more at stake here than the usual, one-off thing of seeing a film on the screens," Giurgiu believes. "It's an important trilogy, a project that crosses genres and trends. This last episode is about the 1950s, a period that my generation, at least, didn't really learn about. I'm reading memoirs now, and I find everything that happened in the country to be absolutely atrocious. These are the beginnings of a moral decline, of a brutal change at all levels of society, the effects of which can still be seen today," he continued.
"The film speaks well about this tight-rope dance with compromise, with power", says Giurgiu, defining the aims of Moromeții 3. He goes on, without fearing big promises: "I think that, in time, this will be a valuable and good, cinematic document about the peasantry, about collectivization, about these absolutely miserable years in the history of our country."
The micro-manager
It's the fourth week of shooting, so the team's nerves are more tightly-strung than usual.
After one of the rehearsals, Vivi Drăgan wants to approach Gulea, and he knocks into Alexandra. "Do you want me to make some space for you?", she asks. Vivi Drăgan agrees, in a grouchy tone. "I won't know it if you don't tell me," she doubles down. Small teases appear throughout the entire shooting, most often between Vivi Drăgan and one of the younger crew members.
Today's starting hour (or "call") has been delayed thrice, in an attempt to find the optimal method of including three scenes, shot throughout three different locations across twelve hours in Bucharest.
The ones who have it easiest seem to be those that have a good sense of humor. When Vlas Glilga, the production manager, approaches Sala Palatului (the Bucharest Royal Palace Concert Hall), the second location of the day, onboard his car, he tells me: "Now, let's pay that the One Below will stick with us and that all the parking spots that we reserve are truly empty". "The One Below?" I ask, bemused. "The One Above is busy, he isn't involved in the production, he's pressed with scriptwriting, with direction."
This time, the sequence is being shot in an administrative office in Sala Palatului, and Stere, Alexandra, Adriana, and a good part of the team have set up camp on the hallway. Gulea is having a backache, and needs an extra pillow on the old-fashioned couch. Still, he keeps a hawk's eye on every detail and, despite a yawn here and there, he is never bored, in contrast to some other members of the team that, during their moments of inactivity, take out their phones and begin scrolling compulsively through their phones. The actor who is playing opposite Alex Călin keeps forgetting his lines. Vivi Drăgan loses his patience and grumbles towards Adriana and Gulea: "Choose some actors that can remember their lines, won'tcha?".
At another point, when Adriana announces "Come on, last rehearsal", Drăgan counters: "Maybe, third-to-last". She says "No, we're really close". He goes on: "We have at least an hour left!"
"I end up fighting with Mr. Drăgan. We have no chill", Adriana admits. "He has his old school style, we have a different perception. Discussions are inevitable, but we're solving them with humor".
"This style of his, cannibalizing and taking over the whole film… I think it scares some people off," says another member of the crew.
During one of the breaks, I also ask Vivi Drăgan about his "micro-manager" style, after seeing him get involved with every single department of the shooting. "That's always been my way of working. I always felt like I was part of the film. As a collaborator, I think it's my duty to say everything that I believe, whether it's about the actors, the costumes, or the set design. I've annoyed a lot of people, I know."
As for the fights between him and Adriana, the cinematographer says that "Bickering is natural, because, first of all, there is a difference between our level of experience, and that's to my advantage. Working on so many films, I know how to make things run faster and more efficiently, no matter what the situation is. In a whirlwind like this, you have to be very efficient and avoid doing stupid things."
Gulea's working method is radically different from Vivi Drăgan's. The director is silent and listens a lot. He asks many questions of the ones around him and accepts suggestions, without clutching onto the idea that there is only one way to do things. "I'm learning many things from him," Adriana tells me. "He doesn't speak a lot, but I observed a lot of things."
The compromises of a developing budget
The shooting of Moromeții 3 started before the production was fully financed, as Tudor Giurgiu confessed in an interview. So far, 850 thousand Euros have been raised and, according to Tudor Giurgiu's calculations, they are 400 thousand short to cover the necessary filming expenses and another 200 thousand Euros for post-production.
Stere Gulea also found out from this interview that the funding is insufficient. He tells me: "I found out quite late about the adventure that Tudor and Oana (Giurgiu) have thrown themselves into. They had sheltered me from this. I couldn't do anything, anyway, and they said: what should we even tell him? He already has so much on his mind."
Vivi Drăgan believes that the problem comes from the way funding is allocated by the Romanian National Cinema Centre (CNC): "The CNC gives you enough money to shoot a newsreel, and you're out to shoot a period piece. We're part of a big old, national cinema club. Everyone gets a tiny little bit, just enough to not get them angry. And when you've got to do a period piece, it's better to not even try. In fact, they were on the fence for a while, thinking whether they should shoot it or not. Tudor and Oana (ed.: the producers) took a deep breath and said: come on, let's do it, but there are a lot of risks, especially if we won't find any money by the end."
I can't help but wonder why Tudor Giurgiu threw himself into this project when he was almost halfway through the budget. Wasn't the risk too great? "We would've needed another year for production," Giurgiu admits. "But it was also a situation that had to do with the creators' old age. For the past two years, Mr. Gulea has been plagued by COVID and a series of ailments. And, when you're his age, every year counts. He asked me to find a solution, and I said, let's not delay this any longer."
Giurgiu says he's used to risks anyway, to "throwing yourself into the void without having a safety net." And anyways, the closest he came to bankruptcy was with a film that he'd thought was perfectly ready to enter production: Silviu Purcărete's Somewhere in la Palilula. "That's when I thought that I had it all and I ended up overpassing every single shooting schedule. We were on the verge of going bankrupt."
The limits of the budget are felt at every step of the filmmaking process, and they affect the entire team.
"For example, we don't have as many extras as we would've liked to, for an action scene. We did some artificial multiplication in the studio, which we'll add onto the scenes," says Adriana  Răcășan. The most expensive part of a period piece is the set design. "Preparing for the film meant to scout for these places a lot, to see if they're as suitable as can be for the sequence, and to have minimal scenic interventions," the assistant director explains.
Many scenes were shot in Talpa, in Teleorman County, the village where the Moromete house is situated, the same that was also used in the first two films of the series. For the ones set in Bucharest and beyond, many details had to be erased or corrected during the post-production phase. For example, in scenes shot in front of the Press Palace, whose facade is filled with air conditioners, which had to be erased later on.
If the first Moromeții, released in 1987, was shot over a period of almost 4 months, 30 years later, the shooting of Moromeții 2 lasted for only a month. And that's the same amount of time that the last film in the series was given.
"It's not a lot of time for a film that has a certain tempo, right?", Vivi Drăgan believes. "You have to cut every corner: a sequence is cut because we don't have a train, or a bus, or an antique car, or we don't shoot that much on the streets of Bucharest because we can't afford to use too much CGI". Still, during post-production, some archival footage will replace the lack of exteriors or, as the cinematographer calls it, "the lack of air".
Vivi Drăgan confesses that his teammates in the cinematography department "came for little money, giving up their financial conditions in order to support me". It's one of the things that motivate him. The other is the "hope that Stere will pull the third film off, too, at least a bit. It probably won't be as successful as the second one, but even if it will only have half of its success, it's still going to be really good," the cinematographer says, realistically.
Gulea says that the lack of money "makes you feel bitter, sometimes". "It's hard to make a period film on a budget that would only fit a contemporary film. It's a bit insulting." At the same time, the director is thankful for the people around him who got involved in the project, and that are always trying to find solutions.
"Everyone tries to make up for the lack of money by pouring their hearts into it. So many people are fighting for one of Gulea's wild ideas," the director says, in a humorous tone.
"Is Gulea really asking us what we think about it?"
Maybe it's this recognition that helps Gulea remain calm, no matter what is happening around him. 
There are often fights on set, some inevitable due to the pressure of time and resources. Others, because "there are these unwritten rules of cinema, who someone wrote on these stone tables and were prophesized among the people, but nobody can tell who the prophet is and where the tablets are. And so, everyone knows a different set of rules," a production crew member explains. This is what happens when people discuss whether the day of work is 11 or 12 hours long, and "there is a permanent ire between the image and sound departments. Because they keep on getting in each others' way and many jokes are going around about this, like – the best film you could do is a silent one," says Adriana.
For Gulea, all of this is white noise. He ignores them, and focuses on the details of the film. He discusses a potential change of words – "motivates" instead of "justifies" – with Alexandra. Then he negotiates with Alex Călin how fast he should deliver his lines on a sequence that is shot on two cameras: "Don't go for a ping-pong".
For almost ten hours, I never hear Gulea raising his tone, not even up to what one might consider being a "normal" tone. Instead, he always asks questions and accepts suggestions from actors, his assistant directors, or Vivi Drăgan. 
Alex Călin admits that he was surprised when he first started working with Gulea. In the three months of script rehearsals, there were many scenes that he had rewritten, based on the actors' input. "Mister Gulea would go, write something, come back, and ask: what do you think about this? And we were like: wow, is Gulea really asking us what we think about it? He really did." Călin did not expect this kind of opening from someone coming from Gulea's generation.
How does one work on what might be their last film?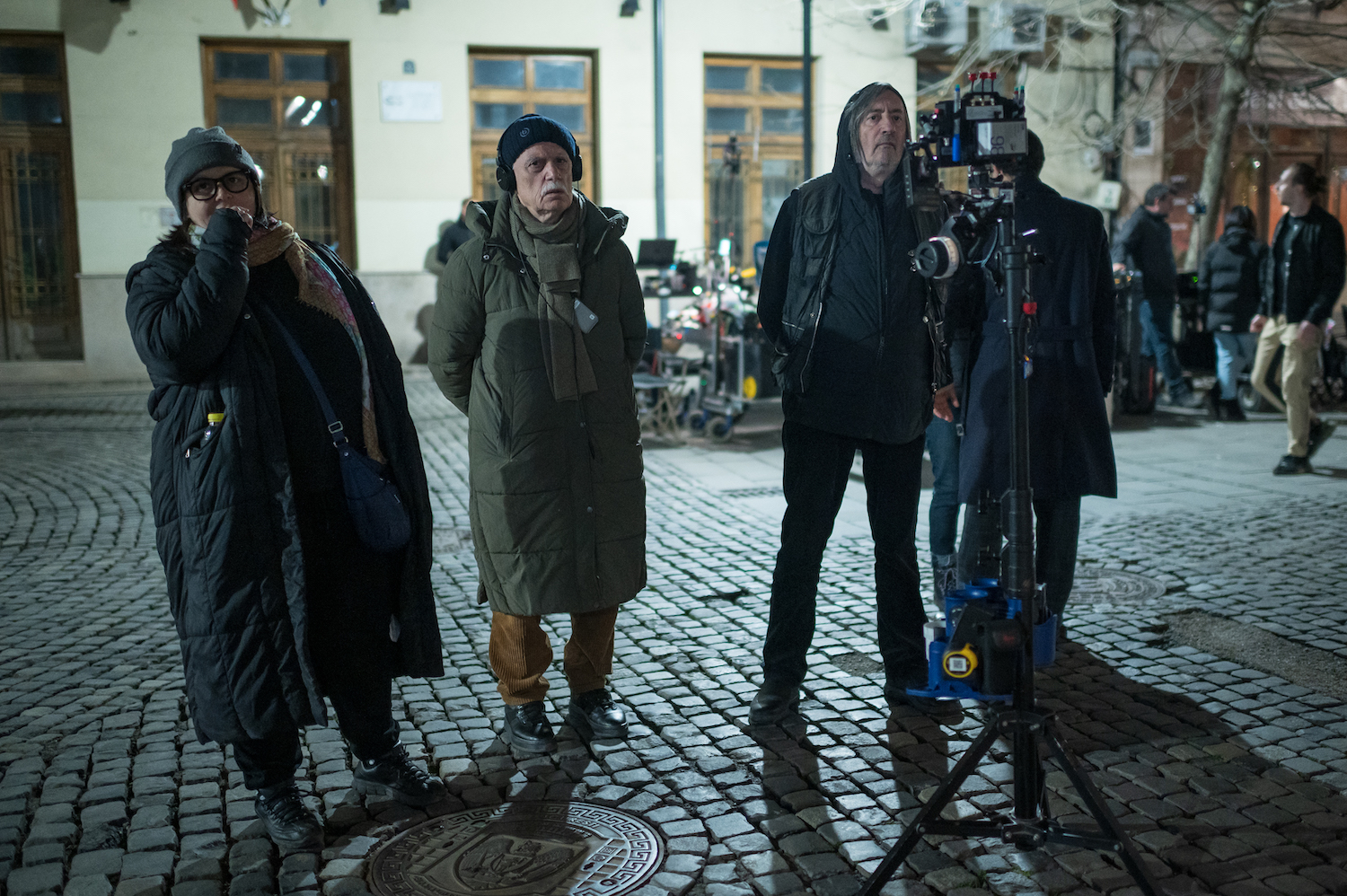 Aged 79, Gulea says that he's aware that this will quite possibly be his last film, a thought that he also shares with his creative partner, Vivi Drăgan Vasile.
Moromeții 3 is their sixth film together as a team, which tallies up to half of the director's  films. "He has always asked for my advice regarding the script and the actors," the cinematographer says. "And during shooting, I'm more careful about the decoupage, while he pays closer attention to the actors and the script. We don't talk a lot during shooting, because I know what he wants and how to help him so that we can work in this whirl-wind rhythm."
The director sees Moromeții 3 as a way to end the "saga" of "many decades of Romanian history", but also a chance for him to repair the mistakes that he made on the second film in the trilogy. He admits that că Moromeții 2 had some defects in its dramaturgy. He wasn't really sure what story he was telling, and he had no single main character. "There were two stories, and none of them had a priority." Now, the entire film, from beginning to end credits, is focused on Nicolae. Additionally, Gulea says, this time he's spending more time in rehearsals, which means that "sometimes, the scene ends up becoming different from the one that I had written".
When the final scene at Sala Palatului finally goes the way Gulea imagined it, the team and the actors take a lunch break, before delving into the day's final scenes. They've unexpectedly managed to catch up with the delays, so the crew can relax a bit and go down to the parking lot, where a food truck surrounded by many tables is doling out equal portions of soup, main courses, and desserts.
Part of the extras are already wearing their costumes, typical of the fifties, ready for the day's final scene, which is going to be shot in the Old City Center: Nicolae is stopped by a policeman and has his ID card confiscated because his stated address is outdated.
When we arrive at the set, I see how Strada Franceză transforms, in every detail, into Strada București of 1954. On one of the buildings, a storefront is being set up: "The Red Star Buffet", its windows dressed in tinsel – the scene is set during a cold December night. Several walls are plastered with vintage theatre posters. One actor changes into his police outfit, and the costume manager looks for a scarf to fit Alex Călin at the last moment. The artificial snow machine is being tested out, scattering flakes that faintly smell like cotton candy.
Gulea takes his place in the director's armchair, and it might be one of the last times he ever does so. But he isn't thinking about it, for now. "We don't know how our work is going to end up. And I'm not frightened by it. I tried to do my best with all of the people that have supported me."
Alexandra Nistoroiu
Reporter at Libertatea since 2019. She wrote about the medical system in Romania, but also about cinema, music, football and other things that make us happy. She misses Naples every day.