Ilinca Hărnuţ: Nothing has helped me more in achieving a balance with myself than working in film
Actress Ilinca Hărnuţ is known particularly for her collaboration with director Radu Jude: she had a consistent role in "Scarred Hearts" (2016), an adaptation after M. Blecher's writings, and smaller parts in "I Do Not Care If We Go Down in History as Barbarians"(2018) and "Uppercase Print"(2020).
She has a leading role in each of the two independent feature films made so far by the young director Ion Indolean, her brother: "Discordia" (2016) and "Toni & his friends" (2020, to be released). When she was a student at UNATC, she starred in two films by the late Cristian Nemescu: "Marilena from P7" (2006) and "California Dreamin' " (2007).
She also played in a few short films, probably the best known is the excellent "Ivy" (2018), by Sarra Tsorakidis; recently, Ilinca has been her directing assistant on another short film.
She is an independent actress, currently not an employee of any theater, she loves cinema but periods of inactivity frustrate her, so in parallel she works as a translator and English interpreter.
Born on July 8, 1984 in Cluj-Napoca, Ilinca Hărnuţ acquired a taste for acting in high school ("Gheorghe Şincai" High School), when she attended a student theater group who played at the Culture House.
"I went to an audition. The theater group was made of 2nd and 3rd year acting and directing students. At that time I was playing basketball and I had a body movement typical of this sport. I was quite the tomboy, so very rigid in my movements. Since the school in Cluj also involved a lot of exercise and ballet, they were very good at technique, so I noticed they weren't happy with me", the actress recalls.
But she realized that she really enjoyed acting and it seemed fun. She applied to acting in Cluj and entered with one of the highest grades. And since the admission in Bucharest was being held a month later, her mother urged her to try there too, because it's a "serious school".
So she went to UNATC, too, and quite relaxed: "I cried because they told me on the exam that my way of speaking is not good. I had a good voice, but I talked with a lisp. Which I still have, but it's not that strong anymore. I used to rush out in my speech. Now I'm more temperate, but then I wanted to say it all at once."
"I came up with a plan. I wanted my performance for the admission to be very clear, as if I didn't have a body, as if I could only exist as a pure form of talent or non-talent. You show the pure essence of a human. That's what I thought. So I bought some long skirts from a second-hand shop in Cluj. I looked like a penitent. I dressed like that for every examination. At the last one they told me: Is there something wrong with your feet, do you have some malformation?", remembers Ilinca Hărnuţ.
She also got in at UNATC with very high grades: "I don't know, I moved them somehow. I chose – and this is a tip for anyone at acting – a backup monologue where the character talks about how bad it feels to not be good at anything. How hard can it be to say that?".
About her student days, she doesn't regret that time, but she doesn't have "amazing memories" about it either. For example, she didn't like musical theater and couldn't see herself doing that in the future, but now, after discovering Brecht, she regrets not exploring it more. "You decide things at 18, when you're not an adult yet, then you guide your life after these decisions. But, after 30, you think musical theater can be fun or used in an interesting way. In school, I didn't like to dance at all. At first, I liked to sing, and I thought I was good at it. But then I found out I wasn't as good as I believed to be. Moreover, I had this feeling that I wasn't appreciated enough. But that was stupid. The teachers did appreciate you as much as you deserved," she recalls.
Other problems were the large number of students, 35-40 in a year, and the frequent changes of teachers and groups. "When I first started, I had confidence in myself and in my potential whihc I saw as unlimited. When I finished, it was gone," she says with regret.
"I also did Chekhov three years in a row. How much Chekhov is there to do? But I didn't do different texts by Chekhov, which would have been interesting. I only did Three Sisters. Four semesters of Three Sisters. Moreover, I played Olga, which was not interesting either. Sure, if you're older. But I was 19 and my line was, "I'm so tired, I feel like I'm getting older." And then I thought I was doing it very well, but now, at this age, when I think about it, I realize it was lame. I remember touching my temples repeatedly, because that's what you do when you're old. You have migraines. Neurotic women," the actress finds it amusing.
When she was a student, she got small roles in Margo (2006), by Ioan Cărmăzan, and in co-productions made at MediaPRO. At that time she also worked on two of the films by the late director Cristian Nemescu: the medium film Marilena from P7 (2006), where she played a prostitute, and the famous feature film California Dreamin' (2007), where she was meant to play a village girl and get more on-screen time, but in the end she only appeared in the group scenes due to a lack of communication which messed up the shooting schedule.
About Cristian Nemescu, the talented director who died in 2006, just 27 years old, in a car accident in Bucharest, together with the sound artist Andrei Toncu, she only has pleasant memories: "I remember he was very nice. He was a kind and gentle man. He turned red quickly, he was very emotional. It was a pleasure to work with him."
She admits that she liked very much these first experiences in cinema, which made her get closer to film than theater: "When I applied to acting, I never thought I'd play in Romanian films. I couldn't even fantasize about it. So when I made my first film, I liked it so much that it seemed too cool. I thought that things had to be tormenting and difficult, that you had to be nervous about it. I'm a very emotional person, so theater takes a lot of me. Then I realized that it's very cool to do something that is close to your nature." And in her case, she thinks it's film.
Although she performed on the stage of big theaters in Bucharest, such as TNB and Bulandra (however, she wasn't employed), she didn't want to continue in this direction.
"I don't like big theaters. I don't like the pressure that a big theater puts on an actor. It implies a kind of performance that doesn't feel as my own. I don't like to do it, I don't like how I do it and I don't like how I feel when I do it", she recognizes. But she adds immediately: "It wasn't like people were begging me and I was refusing. I didn't even put an effort. It was a lack of interest on both sides."
She is inclined to believe that being part of a theater group wouldn't have made her feel very good, although she admits that "it's nice to be part of a collective and know that you'll always have something to do". "These dead periods are horrible. I can't stand them. These periods when there's nothing to play, nothing to rehearse, no project in the works. At some point, every actor has some projects that started but did not end, or that were in pending and then cancelled due to lack of funding or other reasons. It's frustrating. When you're in a group, you have this certainty that you can do your job consistently. For me, this is the main advantage. The disadvantage is that, in a group, it's not really up to you what you do, you don't really have a choice. You do what you have to do," explains Ilinca Hărnuţ.
About Radu Jude, with whom she collaborated on three films – Scarred Hearts (2016), I Do Not Care If We Go Down in History as Barbarians (2018) and Uppercase Print (2020) – and a theater play hosted by Apollo 111, Ali: Fear Eats the Soul, she says is a director who clearly knows what he wants to do.
"In his writings, he has a very nice turn of phrase. He's very concerned about how the text sounds. If you have a work logic similar to his, the process is very smooth. Moreover, he has an infinite curiosity about the topics he addresses. So, it's very interesting and easy to work with him, because he has an impressive knowledge. Then, he also respects the other one's job. It's very nice to work with someone who respects your job", says the actress.
About Isa, her character in Scarred Hearts, she says that is among her favorites: "I liked all of it. First of all, the cast gives you a very interesting feeling. Like you're helpless. But the character is not depressive. She's very tonic in that rigidity. I sort of make fun about situations that feel uncomfortable, in order to get over them. So that's what I liked most about the character. Of course, you want to wallow around in self-pity. If you were to live 20 years in a body cast, I think you'd go crazy. But the film has humor, makes fun of death, of that state of being".
She also says she "loves" to make films with Ion Indolean, her brother, a young director from Cluj, a former film critic, who has made two independent and low-budget feature films: Discordia, in 2016, and Toni & his friends, to be released in 2020.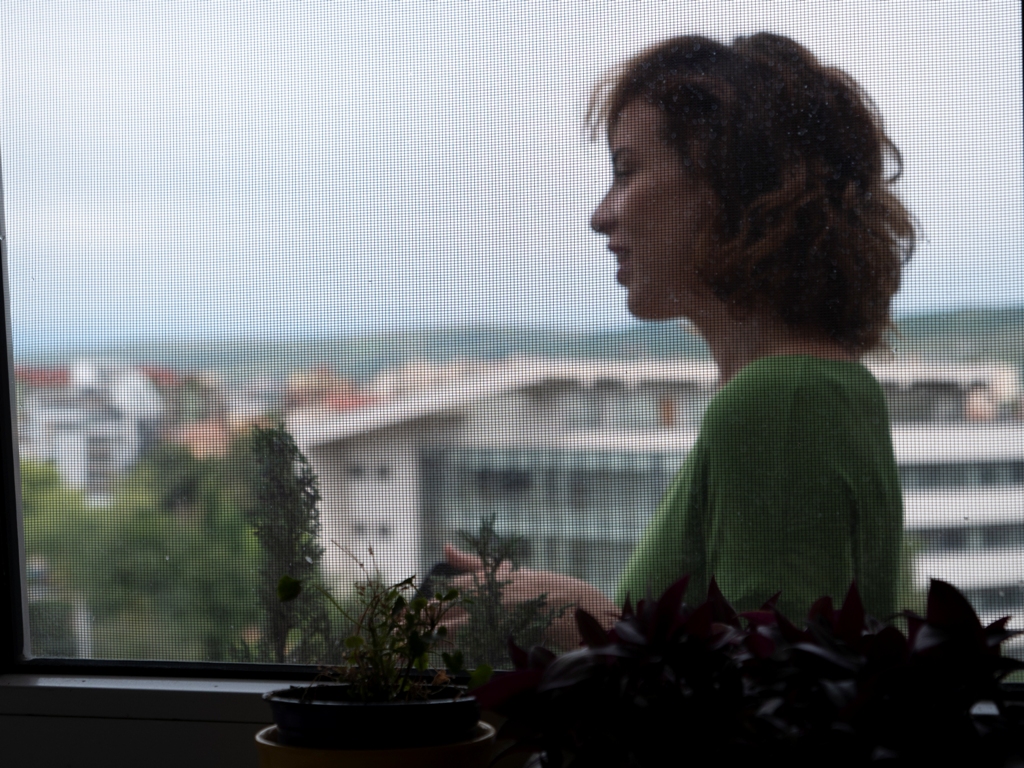 "I'd make movies with him forever and ever. First of all, Ion and I know each other so well, we shared the same room for 15 years, it's still very easy for us to work together. We both wish for the best result and it's a kind of fraternal friendship. It's very cool. Even more, he trusts me very much, because he knows me very well. Ion knows very clearly what he wants. He's very organized and very precise in everything. It's very relaxing to work with him. He doesn't suffocate you with information, but if you do something that bothers him, he'll come and tell you, no doubt. And if nothing bothers him, he won't. He succeeds in inspiring confidence and dedication to the team. I am very glad to see him doing that", says Ilinca Hărnuţ.
"Vulnerability" and "honesty", that's what she likes to see in acting and tries to achieve herself. "If your thoughts are in the right order and if you imagine a certain situation with a kind of honesty, that's somehow enough. And it might seem easy. The word "enough" makes it seem easy, even if it's not. Above all, it's basically a sort of openness and vulnerability that all the good film actors have. Even when their performance is theatrical you can notice some honesty to it. You have access to some kind of pool inside that man, with whom he juggles. It's an undeviating channel. I like to see that, and also try to get that from myself. And I am very happy when I feel like I have succeeded. I feel like nothing has helped me more in achieving a balance with myself than working in film. It's some sort of vulnerability, something that cannot be faked. For some it's difficult to obtain, for others it's very easy. It's an ongoing exercise with yourself that I find very interesting," she adds.
She sees film acting as embracing the possibility that "the identity you have built all your life, by which you define yourself and with whom you walk around the world, doesn't actually exist."
"And that identity might be a fiction. And beyond it, there's something you don't know or have any way of knowing. Because knowledge is very much mediated by language, and language is completely useless in capturing the specificity of that identity. So then, the first step is to let go of that safety net you create by imagining a certain you. To be aware of the fact that how you see yourself is just a tool with which you have operated and currently operate, and which you change from year to year. I've always been frightened by this void of words that hides behind the words you use to describe yourself, words that are comforting because they confirm that you're alive and that your identity is solid. But if you put them all aside, you would see how immaterial everything is, that your very own life is immaterial, because you can no longer put it into words, give it a solid form," explains the actress.
Ilinca Hărnuţ also says that it's good for an actor to be realistic, to know his own limits and avoid playing everything, because "being ostentatious is the worst": "Thinking you could be whatever and do whatsoever, that might trick you. It's some artifice you keep doing again and again, and eventually it gets more and more uninteresting. It looks like some bad sketches on TV."
She believes that "there are several categories of good performances" and that everything "depends a lot on the stylistics of the product".
"In those realistic films there's something very visible and disturbing, because that's not something very well taught in Romanian film school. That's why there are only a few actors who play in every film, because they probably do it best. In an academic system where you need to do well in order to be validated (you're in the first grade and you have to get a "very good" or a 10), the actors tend to show that they have understood. If they play a sad character, then they'll always over-communicate that the character is sad, because they are afraid that you won't understand that the character is sad. The actors feel the responsibility of carrying the full meaning of a scene, as if there are no other elements, as if the whole film doesn't have a context," says Ilinca Hărnuţ.
"In a hyper-realistic film, but not only, first you need to understand that you're an element in a bigger structure, who has a purpose, as do other elements. And you have to serve that purpose. And all these purposes together create a phrase. You are not the only one," she adds.
Then, it's extremely important "to understand the 'whole' agreement": "To understand the key of the game. And not be out-of-sync with the rest. Or blow up the agreement by the way you act and build your character. You can do something that is very good on its own, and you might think you have the best performance in the film, but if you don't understand the 'whole' agreement, you come off as ostentatious and annoying. A good actor is one who, first and foremost, understands his role in the great structure of the film and, secondly, has the modesty to acknowledge that he has no chance to control everyone else's perception of him", concludes the actress.
Main photo credit: Horaţiu Şovăială
Journalist and film critic. Curator for some film festivals in Romania. At "Films in Frame" publishes interviews with both young and established filmmakers.